Nevil's Wreck Strain Overview
Nevil's Wreck strain is a sativa dominant strain that keeps users on their toes with an energetic zing of pine, herb and earth while delivering a cool and relaxing high.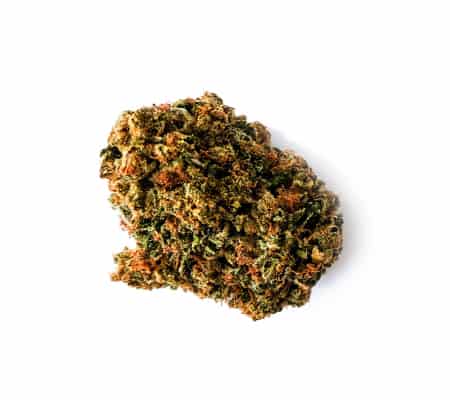 Flavors
Earthy
Flowery
Piney
Spicy
Sweet
Common usage
Anxiety
Chronic pain
Depression
Fatigue
Focus
Stress
Effects
Calming
Creativity
Energy
Euphoria
Happy
Relaxation
Uplifting
Growing info
Flowering period is about 9-10 weeks. It is grown both indoors and outdoors. BUY SEEDS FOR THIS STRAIN AT OUR #1 RATED
ONLINE SEED STORE: HOMEGROWN
Nevil's Wreck is a potent sativa-leaning strain that is a popular choice among those seeking relief from stress and tension. It is an 80% sativa and 20% indica mix, making it a blended hybrid. Users also report the mitigation of many other condition-related symptoms, including depression and anxiety.
The Nevil's Wreck strain has a buzzy, intense cerebral high that creeps softly into the consciousness before soothing worries, aches, and pain. Meanwhile, it leaves behind a smooth, relaxed body high.
However, some get a boost of energy from the strain and report feeling happy and uplifted. Users commonly report euphoria and happiness with this strain. Nevil Wreck's potency gives cannabis lovers a dreamy, fresh, and perfect high for those looking for a pick me up following the dreaded 3 pm slump.
What Is the Nevil's Wreck Strain?
Contrary to its name, Nevil's Wreck won't leave its users in the dust. Its sativa-leaning characteristics lend it some energizing traits. Users won't find themselves on the couch, or feeling waves of ennui on a nearby sofa or bed.
Instead, Nevil's Wreck features many of the attributes that users enjoy in a daytime strain. While it may not be everyone's proverbial cup of tea in the morning, it makes for an exciting addition to any afternoon routine.
Nevil's Wreck has an interesting heritage. It is the culmination of two strains: Arcata Trainwreck and Neville's Haze. These two strains enjoy many accolades within the cannabis community.
In particular, Neville's Haze has some notoriety as a cannabis Hall of Famer. It has roots (no pun intended) intertwined deeply into the folklore surrounding Neville Schoenmakers.
Consumers have ubiquitously dubbed him the crown prince of strains. He has bred many hybrids, and Nevil's Wreck is the product of a long line of testing, tweaking, and perfecting. However, Schoenmaker can't take the credit for this strain. The glory goes to the labs of Rare Dankness.
The scientists at Rare Dankness have brewed a great elixir. Each inhale of this strain results in a quiet, yet robust quality that seeps down into the mind and calms the body.
However, it won't leave users hanging in the balance. It uplifts and suspends lowly feelings by ramping up contentment, happiness, and euphoria. Consuming too much of this strain may backfire and leave some users feeling pretty spent.
Aroma
The Nevil's Wreck strain has several aspects to its aroma profile. Many may attest to its tangy and spicy notes. Some users have reported a fresh undercurrent of pine and crisp wisps of wood and citrus. While some strains may struggle with the overwhelming fragrance of skunk, this strain takes a gentler approach.
Its dank side is blended well with hints of herb overlaid with a floral bouquet. Deep hints of warm earth and just a touch of peppery allure show up in Nevil's Wreck smoke.
Flavor
The Nevil's Wreck strain has a sophisticated yet pleasing flavor. There are pine and wood on the inhale, reminiscent of a walk through a verdant and fragrant forest. Those with a sweet tooth enjoy its stealthy, yet substantial hit of sugary sweetness.
However, it isn't a cloying, saccharine quality that clings to the tongue. Instead, it gently pervades and is perfectly balanced by hints of fresh, ripe citrusy lemons. A floral bouquet is also a part of this montage and is offset by a piquancy that many users enjoy.
Appearance
The Nevil's Wreck strain has numerous dense small buds that display stunning colors. The popcorn-like nuggets come covered in a layer of crystalline trichomes.
This sugary, sticky resin doesn't obstruct the burst of yellow and orange pistils that emanate from the buds. Users can also see eye-catching sparks of red enmeshed among traces of dark and light greens.
Nevil's Wreck Strain Grow Info
Nevil's Wreck seeds can grow both indoors and outdoors. However, this strain may prove difficult for newer growers. It thrives best in a climate that is warm and dry. It also requires a hefty dose of nutrients if grown in soil. This strain takes about 9 to 10 weeks. Outdoor harvesting usually begins around late October.
A typical harvest from indoors may yield up to 20 ounces per square meter. Outdoor growth may be more lucrative, with a yield of up to 24 to 25 ounces or more.
While Nevil's Wreck isn't exceptionally tall, it may take some space, and growers need to trim and prune leaves to allow for adequate air and light circulation. This strain is not available as feminized seeds.
THC Content – Highest Test
This strain has an average THC level of 25%.
CBD Content – Highest Test
The highest content test for CBD is 1%.
Medical Benefits of the Nevil's Wreck Strain
Consumers of Nevil's Wreck strain say it is useful for relieving many different disease and condition-related symptoms. These include pain from headaches, nausea, vomiting, and muscle spasms. Its energizing high may also mitigate fatigue and increase focus. Users have also reported higher levels of creativity and mental clarity.
This strain may also ease stress and depression symptoms and assist in addressing issues related to PTSD and mood disorders. Other benefits may include relief of arthritic pain and discomfort along with chronic pain. Nevil's Wreck may aid in post-exercise inflammation and symptoms stemming from tinnitus. It may help address issues related to anorexia as it induces appetite.
Possible Side Effects of the Nevil's Wreck Strain
Nevil's Wreck is a strain with a high THC level. Some users may become affected and experience adverse reactions. Some of these reactions may include dizziness, headache, dry eyes and mouth and thirst.
Final Thoughts on the Nevil's Wreck Strain
The Nevil's Wreck strain has become a popular favorite. This sativa-leaning plant has some revitalizing qualities that also soothes, calms, and relaxes. Users report that it induces feelings of contentment and happiness while uplifting users. It may also alleviate chronic pain, migraines, and issues with nausea and vomiting.
Nevil's Wreck may also reduce some symptoms related to depression and anxiety. It is a good strain for daytime smoking, though too much of it may cause some sleepiness. Home growers looking for an easy to handle strain may want to steer clear of this one.
It has some requirements, including a stable warm and dry environment. However, it also needs plenty of light and air. Frequent trimming and pruning may assist in this endeavor by allowing for balanced circulation.
Indoor harvest may begin around 9-10 weeks, and outdoor harvest may happen sometime in the late fall to early winter, near the end of October. It has a refreshing pine aroma and flavor, along with woody elements like sage and earth.