Overview
Require a medical marijuana card in CT? Find out if you qualify instantly. Simply read the information below and start the online process today!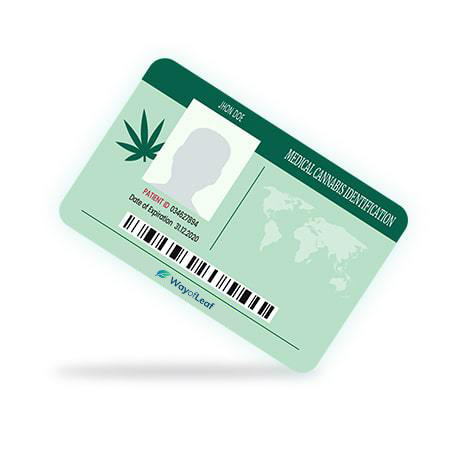 State Program
Approved on
JUNE 2012
CONSULTATION FEE RANGE
MMJ PURCHASING LIMITS
MAXIMUM OF 5 OUNCES IN ONE MONTH
HOME CULTIVATION?
MINIMUM AGE LIMIT
The Connecticut medical marijuana program is well-established, but not everyone knows how to get their card. This guide outlines how to get a CT medical card and provides information on frequently asked questions. However, first, let's look into the penalties associated with the illegal use of marijuana in the state.
Connecticut Medical Marijuana Laws
Although adult-use marijuana is legal in Connecticut, there are still punishments for the illegal possession, cultivation, and distribution of the substance.
It is legal for adults aged 21+ to possess up to 1.5 ounces of weed in public and a maximum of five ounces in a private residence (in a locked container). If you're caught with a higher amount, you face a misdemeanor charge and up to a year in prison.
The legal sale of recreational marijuana in Connecticut only began in January 2023, even though the law came into effect in July 2021.
There are still severe penalties for illegal sales. For example, selling any amount remains a felony with a possible jail term of up to seven years.
It is illegal for recreational users to grow marijuana plants until July 2023. At present, you receive a written warning for cultivating up to three mature and three immature plants.
How to Get a Medical Marijuana Card in Connecticut
Ultimately, it is still worth your while to apply for a Connecticut MMJ card, as you can buy and cultivate marijuana. Here's how to get yours.
Step 1 – Get in Touch with a CT Healthcare Provider & Schedule a Consultation
The first step involves booking an appointment with a licensed CT doctor to discuss your potential qualifying condition. You will need to provide a valid email address and telephone number when receiving your certification.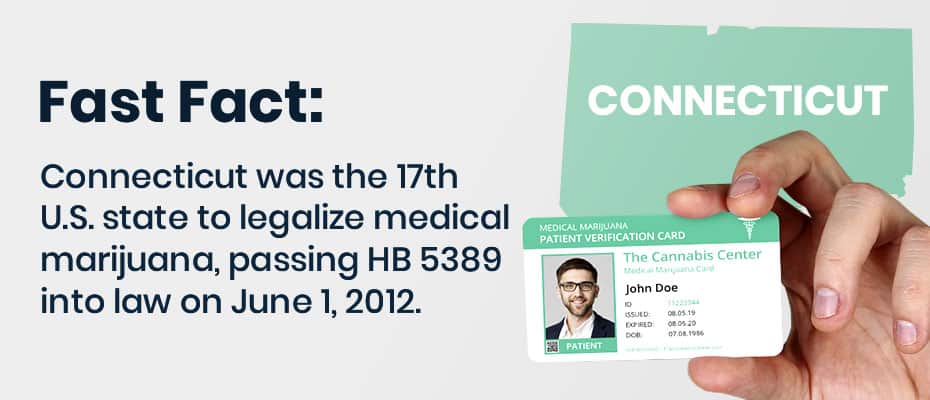 If your physician deems you eligible for a qualifying condition, you can complete the registration process online.
Step 2 – Sign up for a CT State Government Account
Create an account with the Connecticut Department of Administrative Services (DAS) Business Network. You only gain access once your physician provides a valid certification. If you try to apply before approval, you get the following message: "You have not been identified as a patient. Please see your physician and verify your email address."
It is the same situation for a primary caregiver, should you nominate one.
Once you're registered online, you must verify that the details entered by your physician are accurate. You also need to answer a variety of verification questions. Only then can you proceed with the MMJ online application.
Step 3 – Provide the Official CT Medical Marijuana Program with Proof of Identity
After you've completed the online application, you must provide proof of identity and residency before making your payment. Here is the documentation you'll need:
Proof of Identity: Examples include a driver's license, U.S. Passport, or Certificate of Naturalization.
Proof of State Residence: You can prove you are a Connecticut resident by showing a document with your name and residence dated within the last 90 days. Accepted materials include a computer-generated bill from a utility company, a bank statement, or a Medicare/Medicaid benefits statement.
Step 4 – Visit a Dispensary
Once you complete the entire online process, you must wait to receive your MMJ card in the mail. However, the Department of Consumer Protection (DCP) also sends a temporary certificate to your email address. You can now buy medical marijuana in Connecticut from an official state-licensed dispensary.
Who Can Apply for a Medical Marijuana Card in CT?
If you're a state resident aged 18+ with a qualifying medical condition, you can apply for a medical marijuana card in CT.
Cost of MMJ Card in CT
The medical marijuana card cost in CT includes a $100 application fee. You can also expect to pay between $150 and $250 for a doctor's consultation.
CT MMJ Card Qualifying Conditions
The list of CT medical marijuana card qualifying conditions is long and includes, but is not limited to, the following:
Glaucoma
HIV/AIDS
Parkinson's disease
Multiple sclerosis
Nervous tissue damage
Cachexia/wasting syndrome
Crohn's disease
Sickle cell disease
Post-laminectomy syndrome
Severe psoriasis and psoriatic arthritis
Amyotrophic lateral sclerosis (ALS)
Ulcerative colitis
Complex regional pain syndrome
Cerebral palsy
Cystic fibrosis
Terminal illness requiring end-of-life care
Uncontrolled intractable seizure disorder
Spasticity (or neuropathic pain associated with fibromyalgia)
Rheumatoid arthritis
Postherpetic neuralgia
Hydrocephalus (with intractable headache)
Neuropathic facial pain
Muscular dystrophy
Osteogenesis imperfecta
Chronic neuropathic pain (related to degenerative spinal disorders)
Tourette syndrome
Interstitial cystitis
How Long Does It Take to Get a Medical Marijuana Card in CT?
The Connecticut medical marijuana card application may take up to 30 days to process. However, it is usually far quicker than this. In general, you should contact the Connecticut MMJ program directly if you haven't received your card within three weeks.
How Do I Renew My Connecticut Medical Card?
Medical marijuana cards in Connecticut last for one year from the certification date. This is an important distinction because the clock starts ticking from that moment.
When the expiration date approaches, you and your physician will use the same DCP portal to start the renewal process. We recommend starting weeks in advance so you don't let the MMJ card expire. If you allow this to happen, you have to start from square one.
Your physician must:
Confirm that you are still under their care
Provide the date of examination for recertification
Confirm there is still a bona fide doctor/patient relationship in place
Complete the trio of certifications at the end of the form
You must:
Show proof you still live in the state of Connecticut
Complete the certification/verification steps at the end of the form
Provide an updated photo
Pay a registration fee of $100
Your primary caregiver must also provide an updated picture. Also, they need to complete the same certification/verification steps at the end of the application and pay a registration fee of $25.
Other Information on the CT Medical Marijuana License Process
Are you interested in scheduling an appointment with a physician to apply for medical marijuana in Connecticut? If so, there are still a few things to remember. Here are some answers to FAQs about getting an MMJ card in CT.
What Types of Cannabis Can I Purchase in CT?
Once you have your medical marijuana card in Connecticut, you can enjoy a variety of consumption methods. Dispensaries sell flower, edibles, pre-rolls, topicals, vape products, tinctures, and extracts.
How to Get a Medical Marijuana Card in CT Online
You can make your life easier by using a service such as Veriheal or Leafwell. These providers ensure you benefit from an online consultation with a physician licensed in Connecticut. This meeting usually takes 10-15 minutes. The doctor will initiate the process with the state's DCP if you're approved. You then receive access to the online system to complete the patient's section of the application.
You can expect to pay around $200 for this service, although you must also pay the $100 MMJ program registration fee.
Can I Register My Child for Medical Marijuana in CT?
Yes, however, the list of qualifying conditions for applicants aged 17 or younger is limited to the following:
Cystic fibrosis
Severe epilepsy
Cerebral palsy
Muscular dystrophy
Terminal illness requiring end-of-life care
Osteogenesis imperfecta
Uncontrolled intractable seizure disorder
Irreversible spinal cord injury with objective neurological indication of intractable spasticity
Tourette syndrome (when the patient has seen no benefit from standard medical treatment)
Intractable neuropathic pain that doesn't respond to standard medical treatment
Minors must schedule appointments with two doctors, one of whom must be their primary care provider. Minors must also have a caregiver.
Where Can I Purchase MMJ in Connecticut?
There are 18 licensed dispensaries in the state, which is reasonable given the relatively small area. Well-known brands such as Curaleaf and Bluepoint Wellness operate within Connecticut. You can see a full list of the available dispensaries on the DCP website.
How Much Cannabis Can I Buy & Possess?
Until recently, MMJ patients could only purchase up to 2.5 ounces of dry flower or its equivalent per month. However, with the advent of recreational sales, the limit has been increased. If you have a medical marijuana card in CT, you can buy up to five ounces of marijuana per month and possess the same amount.  Some physicians may indicate that you should use a smaller amount.
An ounce of cannabis is the equivalent of five grams of cannabis concentrate or another marijuana product containing 500mg of THC.
Can You Grow Marijuana in Connecticut with a Medical Marijuana Card?
Yes. A new law came into play on October 1, 2021. It is now legal for MMJ cardholders in Connecticut to cultivate a maximum of six marijuana plants (3 mature and 3 immature). If a household has more than one qualifying patient, that limit increases to 12 (6 mature and 6 immature plants).
Where Can I Use My MMJ?
As in most other states, you can only use MMJ in a private residence in Connecticut. You are not allowed to use marijuana in any moving vehicle or public place, including the workplace. It is also illegal to use it in the presence of anyone under 18 or within 1,000 feet of school grounds or any university/college property (including dormitories).
Also, you can't use marijuana for palliative (preventative) care if it endangers the health of anyone other than the patient or primary caregiver.
Does Connecticut Have a Reciprocity Agreement?
No. At present, Connecticut does not accept out-of-state MMJ cards. However, other states may accept valid MMJ cards from CT.
What Are the Caregiver Rules?
If you or your physician's office outlines the need for a primary caregiver, you must register them on the DCP application. Otherwise, they will not give you a registration certificate. You must identify the person in question as your primary caregiver and verify some medical information on the application form.
Next, the primary caregiver has to provide a valid email address and a primary telephone number. Then they need to create an account with the DAS Business Network (the same way you did). They will answer a series of questions and submit an I.D. in addition to paying a $25 registration fee.
For patients and primary caregivers, please use the following address when mailing supplemental documents:
Connecticut Department of Consumer Protection,
Medical Marijuana Program,
165 Capitol Ave,
MS# 88MMP
Hartford, CT
06106-1630
What If I Lose My Medical Card in Connecticut?
If you lose your CT medical marijuana card, you must complete an online form and send a $10 fee to the DCP within five business days. The Department will send you a new card.
When Did Medical Marijuana in Connecticut Become Legal?
Connecticut legalized medical marijuana in June 2012, joining dozens of other states. The Constitution State established its MMJ program shortly after taking steps toward decriminalizing the substance. In June 2011, a new law stated that being caught in possession of less than half an ounce of marijuana was only punishable by a $150 fine rather than a misdemeanor charge.
Things got even better for weed lovers in Connecticut when Governor Lamont signed SB 1201 into law in June 2021. This piece of legislation permitted the use of recreational marijuana amongst residents aged 21+. There is now protection from the law, with adult-use sales beginning in January 2023.
How to Get a Medical Marijuana Card in Bridgeport and Hartford
You can apply with Veriheal or Leafwell and schedule an online consultation. However, there is no shortage of doctors in Hartford willing to certify MMJ patients. Once you have your card, travel to the Curaleaf dispensary on Weston Street.
Bridgeport rejected the MMJ industry for over a decade. In July 2022, the largest municipality in Connecticut voted to approve amended regulations allowing marijuana retail sales. There are currently no dispensaries in Bridgeport, but that could soon change.
MMJ Card for Veterans in CT
With such a wide range of possible qualifying conditions, veterans living in Connecticut should be able to qualify for an MMJ card. Some clinics and online providers offer military discounts.
Final Thoughts on Getting a Connecticut Medical Marijuana Card
The Connecticut medical marijuana program is extremely well-established, making it relatively easy to apply for an MMJ card. You can schedule an in-person consultation with a licensed physician or use a service like Veriheal to talk to the doctor online. You can complete the rest of your application online if you receive approval. From there, you have the option to buy medical weed from one of many licensed dispensaries within the state.
Recreational marijuana is legal in Connecticut, and sales began in early 2023. It remains illegal to cultivate cannabis without an MMJ card for the time being. Therefore, there are advantages to applying for one, so if you want to proceed, let us help!
[Found this post informative? Help us get it in front of other people who need the information by SHARING it!]