Overview
Green Garden Gold harvests high-grade American hemp for all its products. They use gentle CO2 extraction methods to obtain effective CBD without harsh chemicals or byproducts. They also use third-party testing to ensure the utmost quality.
Ingredients
organically grown hemp extracted CBD. medium-chain triglycerides (MCT) or coconut oil MCT Coconut Oil, Hemp Extract, proprietary terpenes
Recommended use
Begin with 10-15mg once a day for moderate effect, and 30mg-60mg for stronger effect.
Extraction process
CO2 extraction
Medical benefits
These statements have not been evaluated by the FDA. These products are not intended to diagnose, treat, mitigate, cure or prevent disease
*All the data provided is for oil products only
Site:
greengardengold.com
Green Garden Gold CBD: Quick Summary
Pros
An excellent option for potent, lab-tested CBD.
All products come from high-grade hemp.
Lab results include testing for harmful chemicals, hard metals, and mold.
They offer products for a wide variety of CBD needs.
Good Manufacturing Practice (GMP) certified.
Cons
Limited international shipping
Green Garden Gold Review: Will Their Products Work for You?
Green Garden Gold strives to create more than just a brand – they seem intent on making solid, trustworthy CBD. Their quality assurance includes going a step beyond what others are doing in the industry. They provide world-class testing for various materials, including metals, mold, E. Coli, listeria, and other harmful contaminants. They ensure a gold-standard in manufacturing with a Good Manufacturing Practice certification.
Their top of the line products spans a range of items. With such a diverse selection, they make incorporating CBD into a busy lifestyle fun and straightforward. Their eco-friendly and proprietary processes use only wholesome and safe ingredients. We found that there are many advantages to using their top-notch hemp-infused items.
First, we like their unique positioning in the CBD industry. They are one of a few companies that offer CBD oils fortified with CBG. Their strategy includes overall attention to health and wellness, and they ensure the optimization of whole-plant benefits.
Consumers also have a wide range of potencies to choose from – an advantage that promotes fitness for many different individuals. Their oils range from 200mg to up to 6000mg, perfect for bringing balance and support to many lifestyles.
What Products Did We Review?
To prepare for our review, we visited their official website. We took a look at their CBD oils, and other product lines to get an idea of what we'd like to try. They have an extensive range of oils, edibles, topicals, pet products, fitness supplements, and affordable bundle packs. Fortunately, their site is clear and easy to use. We were able to navigate through many of their menus seamlessly.
They offer authentic customer reviews on each product tab, an addition that made our selection process much simpler.
When it comes to pricing, Green Garden Gold is relatively competitive. They provide different price points that can fit a variety of household budgets. This is extremely helpful considering that access to CBD can help so many people.
We sampled all of their products. What we found is that their quality is unparalleled. Their oils, particularly their Advanced Care CBD oil, had a flavor we enjoyed. Unlike some other companies, they infuse their oils with natural ingredients, which results in a fresh, clean flavor with no aftertaste.
Their CBG line offered a fantastic array of benefits. We felt refreshed and energized after only a week of use. We liked that this line provides a one-to-one ratio of CBD to CBG, with 500mg for each compound.
Green Garden Gold offers a unique experience with their edibles. Their gourmet chocolates at 20mg, a piece, provide a convenient CBD boost without the hassle. They also contain all organic ingredients. Each chocolate was tasty and perfect right before bed or as a quick snack. Green Garden Gold lives up to their reputation.
Green Garden Gold: The Complete Line-Up
Green Garden gold features an extensive host of CBD-infused products. They sell a variety of items, including topicals, edibles, powders, and pet treats. They also provide value pack bundles that give consumers money-saving options if they're interested in CBD oils, capsules, or pet items. Green Garden Gold also features CBD capsules and CBD isolate. We further highlight their products below.
CBD Oils
Green Garden Gold sells an impressive array of CBD oils. Their oils come in multiple formulations. They sell an Advanced Care CBD Oil that is vegetable glycerin (VG) blended. They also have two other varieties: MedPac CBD Oil (MCT Coconut Oil) and Real Terpene CBD Tinctures.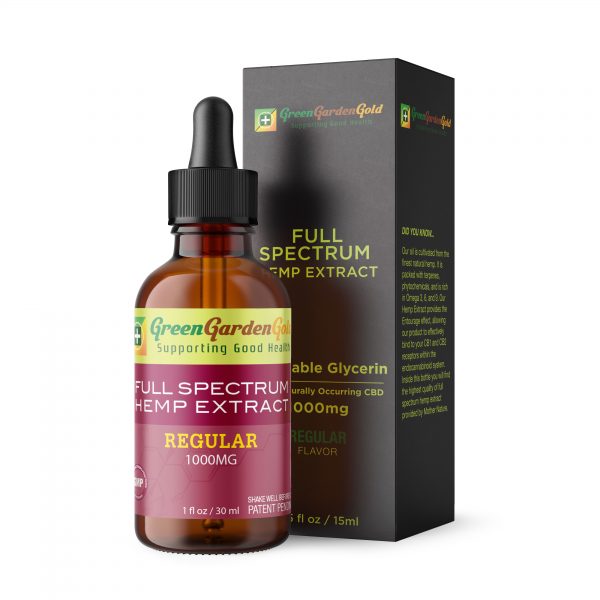 Not only do they sell quality, traditional CBD oils, they also have a one-to-one CBG oil. This oil includes 500mg of CBD, as well as 500mg of CBG.
They offer a range of potencies, from 200mg to 6000mg. They utilize only natural flavors and ingredients along with expertly cultivated hemp. We liked that their oils allow individuals to adjust their CBD intake according to their situation or particular concerns.
CBD Edibles
Green Garden Gold isn't just about oils. They sell a plethora of other items, including CBD-infused edibles. The best aspect of their edibles includes convenience. CBD consumers can get a boost of CBD anytime or place.
However, another significant aspect includes discretion. Their edibles can be tucked into a purse or pocket for hassle-free consumption without arousing much curiosity. Green Garden Gold's extensive edible collection includes:
CBG gummies,
Yummy Gummies (360mg/24-pack or 2-pack 60mg Mixed Berry or Sour Apple)
CBD gum
CBD-infused honey
Gourmet chocolate
CBD Capsules
Green Garden Gold's CBD Capsules are an excellent way for individuals to get their CBD. There are three different options: the CBD Oil Full-Spectrum Hemp Extract capsules, the CBD Night Repair capsules, and the CBD Panidiol capsules.
Each capsule features a specialized assortment of hemp, vitamins, and other health-focused compounds. For those seeking daily CBD dosing, they can try full-spectrum hemp capsules. For better sleeping or relaxation at night, individuals can take the Night Repair capsules, whereas the Panidiol capsules aid in pain relief and mobility.
CBD for Pets
Pet owners aren't left out. Green Garden Gold offers a variety of top-notch products for pets. Canine companions and feline friends can enjoy CBD's potential benefits with the various tasty cat and dog-focused CBD oils and doggy treats.
Their Doggy Be Good Soft Chew Treats CBD can give a furry friend the extra boost of CBD they might need. There are two great-tasting soft treats for dogs. Owners can purchase the beef-flavored Doggy Be Good Soft Treat with 2mg of CBD per serving. They can also address joint pain symptoms with the soft chew joint formula.
Other treats include the Doggy Be Good wheat CBD oil treats and Doggy Be Good Gluten-Free treats. Green Garden Gold has formulated their Kitty Be Good, and Doggy Be Good CBD oils, especially for cat and dog health maintenance, stress, and anxiety reduction.
CBD for Fitness
Those interested in supercharging their gym sessions or maintaining results can try Green Garden Gold's premier line of CBD for fitness. Their MCT powder is a wonderful way to energize before a workout. Each tub contains 450mg of CBD and essential ketones to power through any strenuous routine.
You can maximize your digestive system with their Probiotic capsules. Each keto-friendly capsule contains up to 7 strains of good bacteria to ease digestive discomforts and to increase efficiency. A bottle has 10 billion CFU's and 60mg of CBD.
Green Garden Gold also provides weight control support with their popular Ketones Plus formulation. Each tub comes with 450mg of CBD and an assemblage of critical ketones, vitamins, and minerals. Consumers can choose between vanilla and chocolate. Ketones Plus is vegan, gluten-free, lactose-free, and HPLC tested.
CBD Isolate
If you're seeking pure CBD, Green Garden Gold's CBD Isolate would be a good option. Their crystallized isolate features three sizes including .5 grams (500mg), 1 gram (1000mg) and 2 grams (2000mg). Each tub comes with a convenient double-sided measuring spoon.
CBD Topicals
Reduce pain and aches while moisturizing with their specialized 150mg HumanoFlow CBD salve. Each tub contains a blend of hemp-extracted CBD, nourishing coconut oil, and vanilla fragrance. Green Garden Gold also offers a 1000mg version.
If you're looking to soothe strained muscles and joints, try their PolarX CBD Analgesic Gel. Each tube has 150mg of concentrated CBD. The PolarX brand also comes in a convenient travel-ready spray. They also offer a PolarX patch with 4% lidocaine with 240mg of CBD for the mitigation of pain on contact.
You can smooth away wrinkles and get softer more supple skin with their Smooth CBD Facial Serum. Each bottle contains 300mg of CBD and a host of mineral and skin-enhancing vitamins.
What Else Should I Know About Green Garden Gold?
Green Garden Gold's core mission focuses on the health and wellness of their consumers. They consistently innovate through technology, science, and critical feedback from customers. They continuously seek to improve upon their proprietary processes with a keen eye to detail, commitment to quality, and dedication to high standards.
They work with an elite team of passionate researchers and experts with extensive experience in CBD and agriculture. They combine the power of scientific advancement with best-in-class ingredients and materials for products consumers can trust. Their painstaking efforts serve to aid their consumers with balance, fitness, and various other health goals such as:
Healthier pets
Elevated quality of life
Better mobility
Overall well-being
Improved cognition
Green Garden Gold CBD Review: Summary & Where to Buy
Finding a CBD brand that you can trust may seem daunting, but Green Garden Gold makes it simple. Their array of health-focused products with quality ingredients make CBD shopping easy and no-hassle. Their products come with a substantial amount of hemp-extracted CBD and a plethora of healthful vitamins, antioxidants, and beneficial compounds.
While some companies tout their service to quality and transparency, Green Garden Gold proves it with their lab-tested materials and dedication to high-grade, American grown hemp.
They have affordable prices and offer some cost-saving benefits, including value pack bundles.
The only main criticism is that they have limited shipping worldwide. However, those living abroad can email customer service for international shipping options. Those living in the United States can purchase products directly from Green Garden Gold's website. They are a company that seeks to set a gold standard in CBD. Consumers on the lookout for a good source of CBD should give them a try.
Final Verdict – 8/10