Gooberry Strain Overview
The Gooberry strain is an indica-dominant hybrid that provides strong sedative-like effects. Novices take note, couchlock is common. It has fragrant and flavorful blueberry notes infused with earthy and hash-like hints.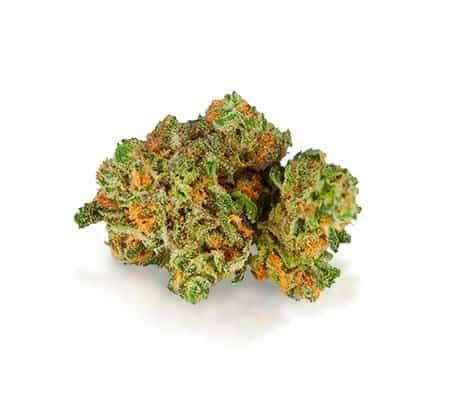 Flavors
Blueberry
Earthy
Piney
Spicy
Sweet
Common usage
Anxiety
Chronic pain
Depression
Sleep
Stress
Effects
Calming
Euphoria
Happy
Relaxation
Sleep/Sedation
Uplifting
Growing info
This strain tolerates cooler temperatures well and is exceptionally high yielding. BUY SEEDS FOR THIS STRAIN AT OUR #1 RATED
ONLINE SEED STORE: HOMEGROWN
The Gooberry strain is renowned as much for its beautiful fragrance and flavor as it is for its effects. Despite being classified as an indica, its sativa elements are conspicuous in the strain's uplifting initial effects. As a result, users say that Gooberry offers cannabis consumers the best of both worlds.
What Is the Gooberry Strain?
Gooberry is a heavily indica-dominant hybrid and the offspring of two much-loved and popular indica strains. Gooberry's parent strains are Afgoo and the award-winning Blueberry strain – so you can see where Gooberry gets its name.
Gooberry consumers say that this strain offers the best of both worlds in terms of its effects. It first provides users with a euphoric and uplifting high. Later, as the initial high begins to dissipate, Gooberry's strong sedative effect takes hold.
Users recommend having some snacks nearby as this strain can boost your appetite but also leave you couch-locked.
As the evening progresses, users say that they start to feel sleepy and ready for a restful night in bed. Gooberry's sedating effects make it much more suitable for evening rather than daytime use.
Also, the Gooberry strain is pretty potent, with a THC content between 18%-20%. Therefore, novice cannabis consumers may find Gooberry's relatively high THC level and its sedating effects too overwhelming. However, experienced cannabis smokers more accustomed to stronger strains should find the Gooberry strain both enjoyable and manageable.
Aroma
Gooberry has inherited sweet-smelling blueberry notes from its parent, the Blueberry strain. It also has a hash-like smell with a milder earthy odor, but the blueberry fragrance overpowers its other aromas.
Flavor
Gooberry's aroma is a reliable indicator of how it tastes. Its sweet, fruity, blueberry notes are present in its flavor and linger long after each satisfying exhale.
As is the case with Gooberry's aroma, there is a subtle but detectable earthy flavor, as well as spicy undertones and piney notes. However, it is Gooberry's fruity blueberry flavor that you'll notice first.
Appearance
The Gooberry plant has a typical indica shape and structure. It grows short and bushy and usually only reaches about three and a half feet in height. Gooberry's buds are pretty sticky and gooey (pardon the pun) thanks to a generous coating of resinous trichomes.
Gooberry Strain Grow Info
The Gooberry strain is relatively easy to grow, making it suitable for novice growers. This is down to several factors. One of these is that the plant grows well both indoors and outdoors.
Another is that a Gooberry plant can also tolerate cooler temperatures. You don't need to live in a warm, sunny place nor do you have to try and replicate that environment in your grow room either.
Experienced Gooberry strain growers recommend reducing the nighttime temperature before the flowering period. This grow technique stimulates the plant's anthocyanin pigments, which bring out its beautiful bluish hues.
A little effort will go a long way as this plant produces some seriously generous yields.
Indoors, Gooberry plants flower between 8-9 weeks and produce a remarkable 36 ounces of bud per square meter.
Outdoors, Gooberry plants are ready for harvesting around late September or early October. They typically produce a similarly generous return of 36 ounces per plant.
THC Content – Highest Test
The highest known THC level recorded in a Gooberry strain sample is believed to be 20%.
CBD Content – Highest Test
The CBD content of the Gooberry strain is currently unknown.
Medical Benefits of the Gooberry Strain
Apart from being a great recreational option, Gooberry is becoming increasingly popular among medicinal cannabis consumers. Its soporific effects have made it a firm favorite among users with insomnia.
Additionally, Gooberry's initial intense and euphoric high may offer temporary relief for sufferers of mood disorders like depression and anxiety. Those suffering from chronic stress say that the Gooberry strain helps them de-stress and unwind when they feel overwhelmed.
As well as relaxing the mind, Gooberry's physical effects may also be beneficial for pain relief. Reportedly, the Gooberry strain can relieve chronic arthritis, lower back pain, and other painful conditions.
As well as relaxing the mind, Gooberry's physical effects may also be beneficial for pain relief.
Possible Side Effects of the Gooberry Strain
The most common side effects associated with the Gooberry strain are cottonmouth and dry eyes. A tiny percentage of users say that this strain gave them a headache or made them feel anxious. Also, many users report becoming couch-locked after consuming the Gooberry strain.
Final Thoughts on the Gooberry Strain
Many Gooberry consumers describe it as a perfect after-dinner strain for relaxing and unwinding. While it initially provides an uplifting high, its sedating effects soon take over. Novices should note the Gooberry strain's potency, its tendency to induce couchlock, and its potential for adverse reactions.