While cannabidiol (CBD) is all the rage at present, it is often hard to understand what you are getting. It can be nightmarish trying to navigate the confounding influx of new terminology with so many products available. Full-spectrum oils, isolate tinctures, CBD cannabis oils, CBD hemp oils — what does it all mean?
With so many products available, it can be a nightmare trying to navigate all the new terminology
In this article, we answer the popular question, "what is full-spectrum CBD oil?" as clearly as possible. We'll also talk about how full-spectrum CBD oils are made, how they're different from other types of oils, and how you can tell quality full-spectrum tinctures from low-grade ones.
What Is Full-Spectrum CBD Oil?
Believe it or not, CBD (cannabidiol) is just one of 100+ cannabinoids that have been identified in the Cannabis sativa L. plant. Full-spectrum CBD oil includes most of these cannabinoids, while CBD isolate oil contains only the isolated CBD compound.
Depending on what you are trying to achieve, full-spectrum CBD oils can work better than CBD isolate. Research has shown that cannabinoids working together are more effective than cannabinoids working by themselves. This phenomenon is known as the entourage effect (more on that later).
In addition to a full inclusion of cannabinoids, full-spectrum CBD oil contains an assortment of other beneficial plant-based ingredients. These ingredients may include:
Essential vitamins and minerals
Beneficial fatty acids (i.e., omega-3 and omega-6)
Plant-based protein and fiber
Chlorophyll
Terpenes
Flavonoids
Sometimes you might see the ingredients on a bottle of CBD oil identified as "hemp oil extract." This term can be ambiguous, as it doesn't clarify how much CBD you're actually getting. This is where the importance of lab reports and cannabinoid profiles comes into play.
Before we explain the benefits of full-spectrum CBD oil, it's essential to understand that full-spectrum CBD can come from both hemp and marijuana. Products for sale online (and that can be shipped to a variety of areas) are made from hemp. Hemp products must have a THC content at or lower than 0.3% to be sold in the U.S.
Products with a higher THC content are not available for consumption in all states. Many marijuana dispensaries in legalized states also sell full-spectrum CBD oils, but these are not the same as the full-spectrum hemp oils for sale online. It's confusing, but we'll clarify in more detail later on.
The Benefits of Full Spectrum CBD
One of the most important studies relating to full-spectrum CBD oil took place at the Hebrew University of Jerusalem in 2015. It compared the performance of a full-spectrum cannabis extract with one that contained CBD only. The study concluded that, in mice, the full spectrum extract was more effective for pain and inflammation. Scientists claimed that the whole plant cannabis extract was "ideal for clinical uses" compared to isolated CBD.
In other words, while "pure CBD" can be effective, it appears that full-spectrum extract is preferable for therapeutic purposes. And indeed, there has been scientific validation to back this up.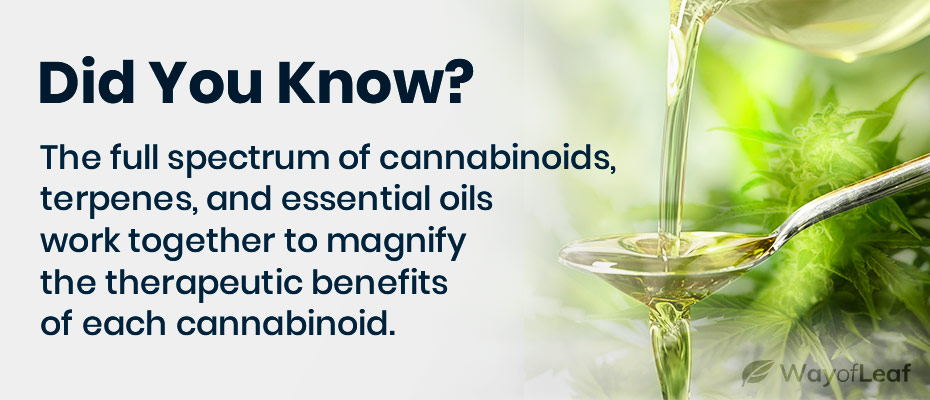 The aforementioned 'entourage effect' helps to explain the efficacy of whole-plant cannabis extracts. As we mentioned, there are over 100 identified cannabinoids in the Cannabis sativa L. plant. When in the presence of one another, these cannabinoids appear to combine synergistically to enhance physiologic effects.
In a January 2019 publication, Dr. Ethan Russo suggested that "one molecule [i.e., CBD] is unlikely to match the therapeutic potential of cannabis itself as a phytochemical factory."
Among many other things, cannabidiol may provide positive therapeutic benefit on the following conditions:
Gastrointestinal Disorders: CBD may have protective effects in cases of colon injury and may also be helpful with conditions such as inflammatory bowel disease.
Anxiety Disorders: Full-spectrum CBD may mitigate some symptoms of chronic anxiety. In a large case series, patients reported decreased anxiety scores. Most patients also reported minimal side effects and improved sleep patterns.
Neurological Disorders: CBD may be of use to patients suffering from neurological conditions such as epilepsy. In one study, CBD was indicated in reducing the frequency of seizures in treatment-resistant children and adults.
Why Is Full Spectrum CBD Different to CBD Only Oils or Isolates?
While full-spectrum CBD oil contains a complete array of cannabinoids and terpenes, CBD isolate oil contains only the cannabidiol compound by itself. This can lead to confusion, as products labeled "99.9% pure CBD" would seemingly be more beneficial than something labeled "full-spectrum extract."
Of course, this is where the skill of knowing how to read a lab report comes into play. High-quality CBD oil manufacturers include lab sheets that outline the cannabinoid profiles of the various products they are selling. In addition to the CBD content, several other ingredients are typically included in full-spectrum hemp extract.
While most readers are probably aware of the impact that THC and CBD can have on their health, there are lesser-known cannabinoids that may also provide therapeutic benefit. When checking the lab report for a quality full-spectrum CBD oil, you may see some of the following cannabinoids:
The Function of Other Cannabinoids in Full-Spectrum CBD Oil
Apart from its use in treating seizures, little is known of the clinical action of CBD. Even less is known of the clinical action of other cannabinoids found in full-spectrum CBD oil. That said, there have been publications suggesting therapeutic benefits of compounds other than CBD:
Cannabigerol (CBG): Known as the 'stem cell' cannabinoid, CBG is transformed into CBD (and to a lesser extent THC) via chemical processes. As a result, most end-user CBD oils have low levels of CBG.
Cannabinol (CBN): The degradation of THC leads to CBN. While there is usually a low amount of it in the fresh plant, decarboxylation typically raises CBN levels. It offers a slight psychoactive effect and is believed to have a greater affinity for CB2 receptors compared to CB1 receptors.
Cannabichromene (CBC): This is probably the least studied cannabinoid, even though it is rather abundant in certain marijuana strains. There simply isn't enough data available to suggest it offers isolated therapeutic benefits.
High-quality full-spectrum CBD oils are not limited to phytocannabinoid content, however. Quality, well-grown hemp contains an assortment of additional ingredients, each with its own benefit. A full spectrum extract should also contain terpenes (aka 'terpenoids').
Terpenes
Terpenes are chemicals that give the cannabis plant its unique scent. Even in small amounts, terpenes are believed to work synergistically with cannabinoids to help alleviate the symptoms of certain conditions. Here are some well-known terpenes that may be found in full-spectrum CBD oil:
Limonene: A stress reliever that is believed to help boost mood. May also assist with gastric issues.
Pinene: May potentially improve memory and boost alertness. It is also anti-inflammatory.
Linalool: Has a sedative effect and may help patients with depression, insomnia, and stress.
Caryophyllene: An antioxidant and anti-inflammatory. It may help relieve the symptoms of pain and insomnia.
Humulene: Has antibacterial properties and may work as an appetite suppressant.
What Is the Best Full Spectrum CBD Oil Brand?
As mentioned above, there's an extensive range of benefits from full-spectrum CBD oil, meaning there are several different reasons people might choose to take it. And with a vast array of full-spectrum CBD oils available on the market, this can make finding the right brand for your individual needs tricky.
We've looked at the most recent reviews on people's favorite full-spectrum CBD oils, considering factors such as:
Cost
Potency
Brand reputation
Here are some people's favorite brands:
1 – Best Overall: Charlotte's Web CBD Oil
Charlotte's Web has been providing CBD products for many years and is a B Corp Certified CBD provider, meaning it is a business that meets high standards of:
Social and environmental performance
Public transparency
Legal accountability
The products are:
High quality
Use hemp from organic farms and at a reasonable price
Start at $23.99 for a 20 ml bottle
The company offers a range of different potencies of full-spectrum CBD oil, meaning you can choose the strength that's right for you. They also sell full spectrum CBD capsules if oils aren't for you.
2 – Best Quality: Green Roads
Green Roads was created by a group of pharmacists in 2013 with a mission to produce high-quality products.
They were one of the earliest companies to urge independent lab testing on each CBD product batch and have long set high standards for quality control in the CBD industry.
The company sells different full-spectrum CBD oil potencies to choose from. Their products are more towards the pricey side, but they also offer various discounts.
3 – Best for Sleep: NuLeaf
NuLeaf's advanced extraction methods mean their products contain a complete range of cannabinoids and terpenes.
Their full-spectrum CBD oil has a high CBD and low THC content. The large quantity of other cannabinoids in their oil means the relaxing effects of CBD are enhanced because of the entourage effect.
The company stays clear from using harsh chemicals in their manufacturing processes and offers customer service seven days a week to answer any questions and concerns.
4 – Strongest CBD Oil: CBDistillery
CBDistillery sells 30ml tinctures which contain 2500mg of CBD. Each dropper contains 83 mg of CBD, an extra boost to the recommended daily dosage of 30-60 mg per day. This product is suited to experienced CBD users and should not be used by beginners.
CBDistillery uses non-GMO hemp, grown using natural farming methods, and then tested by third parties to ensure high-quality products.
5- Best for Flavors: FAB CBD
FABCBD sells five different flavors of full-spectrum CBD oil: citrus, mint, natural, berry, and vanilla. So if you struggle with the taste of CBD, this might be the brand for you.
FABCBD grows its non-GMO hemp organically and stays clear from using pesticides. The company also gives substantial donations from its profit to different charities.
Although we've listed these recommendations, it's important to remember that people can have different reactions to the same full-spectrum CBD oils, so what may work for somebody else might not be suitable for you.
6 – Most Price-Friendly: LiftMode Hemp
Lift Mode's Simply Distilled CBD Distillate Oil contains over 1500 mg of CBD per 30ml bottle and costs $36.68. For CBD quantity to cost ratio, this price is lower than most full-spectrum products on the market.
The product also contains oleic acid amine and pure grain alcohol to optimize CBD absorption, helping maximize CBD effects for users.
LiftMode Hemp products are tested for purity by third-party laboratories to ensure high quality, and THC content is carefully standardized to <0.3%.
How to Use Full Spectrum CBD Oil
There are many ways to ingest full-spectrum CBD oil, but the most common method is to place a drop from the pipette under the tongue.
This method means the CBD, terpenes, and flavonoids can be absorbed directly into the bloodstream instead of going first through the digestive system.
By placing full-spectrum CBD oil under the tongue, effects also come on much quicker than if taken orally. A recommendation is to hold the CBD under the tongue for 30 seconds before swallowing to maximize absorption.
If you don't like the taste of full-spectrum CBD oil, then you may want to try gummies, edibles, or capsules.
You may also add full-spectrum CBD oil to different drinks, such as tea or smoothies. Some people enjoy adding CBD to coffee and other caffeinated beverages, as it can help alleviate some of the jittery and anxiety-inducing effects of caffeine.
Full-spectrum CBD oil is added to gummies and other edible products and is also sold in capsules. So if you don't like the taste of full-spectrum CBD oil, then you may want to try these options.
When trying full-spectrum CBD oil for the first time, always begin with the smallest dose (one drop), as you can always add more, but you can't add less!
Does Full Spectrum CBD Get You High?
In short, the answer is no. Although full-spectrum CBD oil contains the psychoactive ingredient THC, the concentration is so tiny that it doesn't have any notable effect.
However, research has shown that the terpene D-limonene interacts with dopamine and serotonin neurotransmission in the brain. These neurotransmitters play a crucial role in controlling behavior and emotion, so although terpenes aren't directly psychoactive, long-term use of terpenes may have psychological effects.
Does Full Spectrum CBD Show on a Drug Test?
If your full-spectrum CBD oil product is derived from hemp, it will contain only trace amounts of THC. In contrast, cannabis-derived full spectrum CBD tends to have more significant amounts of THC and is more likely to show up positive on a drug test.
Because of the trace THC concentration in CBD products, you can still pass a drug test if THC metabolites show up. However, the concentration of metabolites needs to be below a particular cut-off value to show that there is only a minimal concentration.
Final Thoughts on Full Spectrum CBD Oil
Most would agree that full-spectrum CBD oil offers a superior therapeutic benefit over CBD isolates. In addition to the CBD compound, full-spectrum tinctures contain dozens of other cannabinoids and terpenes. In the presence of one another, these ingredients combine to produce a synergistic effect that is greater than the effect of a single ingredient by itself.
Full-spectrum CBD oil has been known to help relieve pain, reduce stress, and help improve sleep patterns.
For more information on the effects of CBD oil, please read through the following resources: