Overview
Floyd Ledis started Floyd's of Leadville after sustaining cycling injuries and enduring poor mental health. CBD helped him, and now he aims to help others through this diverse brand that offers numerous products.
Ingredients
Hemp extract, fresh pressed hemp seed oil
Recommended use
Use 1-2 drops under the tongue once per day.
Medical benefits
· Relieves pain
· Encourages a sense of calm
· Reduces stress

*All the data provided is for oil products only
Site:
floydsofleadville.com
Floyd's of Leadville Quick Summary
Pros
Lab reports are available to view on the website.
There are lots of consumption methods and strengths to choose from.
The products are quite affordable, starting at just $12.99.
Retailers throughout the US stock these products; there's a store locator on the site.
The brand has a good backstory.
Cons
Some people have reported orders taking a while to come despite $5 shipping fees.
The capsules aren't vegan-friendly.
Floyd's of Leadville Full Review
Floyd's of Leadville is an American brand dedicated to changing the stigma surrounding CBD. With colorful branding and a positive message, it seems as though Floyd's of Leadville could be a serious contender on the CBD market. In this full review, we check out some of the products to find out if this could be the brand for you.
Floyd's of Leadville is one of many brands with a touching backstory. Many of these brands, like Haleigh's Hope, were founded by parents who used CBD to help their children recover from conditions like epilepsy.
Floyd's of Leadville is unique in that this brand was founded by an adult whose story continues to inspire.
Floyd Landis was a world-class cyclist ad athlete. He once won the Tour De France, proving his exceptional ability in his role. However, cycling comes with both highs and lows, and the lows for Landis were severe.
After experiencing a 35 mile-per-hour crash, he ended up having a hip replacement at the young age of 31. Following this, Floyd was on medication for life: Opioids. With his career and future in cycling torn away, Floyd was also suffering from depression. The effects of the incident were not only physical but mental.
Eventually, he discovered CBD. The cannabinoid changed Floyd's life, and he is now committed to showing others the possibilities. He now has a dedicated team around him that runs the brand, including other athlete endorsers who help him to spread the message.
With a story behind it like this, we had to find out more about this brand. Here is what the WayofLeaf team thought of the Floyd's of Leadville products.
Floyd's of Leadville Highlights: Quality, Products, and Branding
Hemp Grown in the USA: All hemp used in Floyd's of Leadville products comes from farms in the USA. The website also claims that it's all cultivated organically, which is excellent news. American farms are one of the best places to source hemp plants.
Certificates of Analysis: Like any great CBD brand, Floyd's of Leadville showcases quality by posting the lab tests on the website. You can view lab reports for every single product, giving you peace of mind every time you shop.
Lots of Options: The website is filled to the brim with CBD products. No matter what you're after, you'll likely find what you're looking for in this brand. Floyd's of Leadville sells everything from drinks and coffee to capsules, edibles, and CBD for pets. Of course, there are also CBD tinctures.
Reasonable Prices: The options on the website are relatively affordable. With so many products and strengths available, you're likely to find something that suits your budget. Prices start at just $12.99 for the smallest CBD isolate tincture (150mg). Floyd's seems to be making CBD affordable as well as enjoyable. There's also free shipping on orders over $50.
Floyd's of Leadville Negative Thoughts
There are few bad words to say about Floyd's of Leadville. Mostly, everything checks out. However, when reading reviews online, we found that some people had had trouble with shipping. It was more common than it perhaps should be for people's orders to take weeks to arrive.
That said, there were also hundreds of positive reviews out there, so the ratio of good to bad reviews is likely a great sign. Still, long shipping times are something to be aware of when ordering from this brand.
Floyd's of Leadville: What Products Did We Review?
There is an enormous line of products on the Floyd's of Leadville site, so we couldn't try them all. We decided to dedicate our time to the beverages, recovery bars, and the CBD tinctures. Below, we tell you what we thought of these products and whether you should give them a try.
Floyd's of Leadville Drinks, Tonics, and Coffee
Multiple CBD brands are now selling CBD drinks. However, Floyd's of Leadville have taken a unique approach, offering CBD protein shakes, pre-workouts, and tonics. These are products that we haven't seen before.
The Recovery Tonic is a CBD isolate beverage that combines natural flavors and ingredients to create a refreshing drink. You can use the tonic before, during, or after a workout. Flavor options include grape and orange, both of which are refreshing. The Recovery Tonic comes in a small shot bottle, costing $3.79 each. There's 50mg of CBD per shot, which is incredible for the price.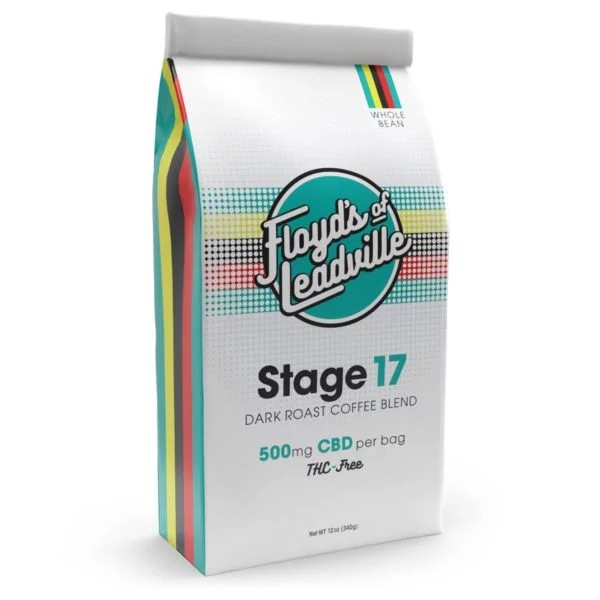 The Hydration Fuel and Recovery Protein are both bags of powder designed to be mixed with water. The former is basically a pre-workout, offering a fruit punch flavored drink to help you get into the zone. Each serving contains 30mg of complex carbohydrates and 3g of BCAAs, as well as 5mg of CBD. There's 50mg of CBD isolate per bag. A single sachet costs $4.99, with prices up to $39.99 for a 1lb bag.
The prices are the same for the Recovery Protein, which comes in rich flavors including Chocolate and Vanilla. This option contains 27g of protein and 8.5g of BCAAs per serving. Again, it contains 5mg of CBD isolate per serving.
Finally, Floyd's of Leadville offers CBD coffee. This isn't totally unique, but this option is very high quality. The Arabica beans are dark roasted by Lion Head Coffee in Colorado, with 2 tablespoons containing 15mg of CBD. A 500mg bag costs $29.99.
Floyd's of Leadville CBD Recovery Bars
If the protein shakes don't sound like your thing, then Floyd's of Leadville has another trick up its sleep. The Recovery Bar is a 'superfood bar' according to the website, offering 25mg of CBD isolate per snack. The bar contains organic honey, chocolate, peanut and almond butters, chia seeds, quinoa, flax seeds, and more.
If you know anything about nutrition, you might be able to tell that this bar is full of protein. It's also plant-based protein! Each one contains only 6g of sugar, too.
A single bar (which is delicious, by the way) costs $4.99. You can also buy a box of 12 for $59.98.
Floyd's of Leadville CBD Oil Tinctures
Floyd's of Leadville groups its tinctures into three categories: Full-spectrum, isolate, and Rx.
The isolate tinctures are the cheapest, starting out at $12.99 for 150mg. They come in five total strengths reaching up to an impressive 1800mg for $70. Each bottle is 30ml, so you get a decent amount of CBD.
The full-spectrum tincture is similar except, obviously, it's full-spectrum. With a range of cannabinoids, you can get everything you need in one 30ml bottle. Strengths range from 300mg ($19.99) to 1800mg ($70). There is now also a 2400mg offering in a 60ml bottle, costing $85. By the way, the full-spectrum tinctures contain less than 0.3% THC, as shown by the lab reports.
Finally, there's the Rx tincture. This one contains CBG alongside CBD, making it a bit more special. Floyd's of Leadville claims that it was formulated for chiropractors and professionals, although now it's available for everyone. The 15ml bottle contains a whopping 2500mg of CBD and 100mg of CBG. It costs $115, which we say is a reasonable cost for such an impressive tincture.
How to Buy Floyd's of Leadville Products
The Floyd's of Leadville products are all available to purchase directly from the online store. All shipping is $5, with orders over $50 gaining free shipping. Currently, Floyd's of Leadville only sells within the United States.
Conveniently, there is also a store locator on the website. You can type in your zip code to find out what stores and dispensaries are selling these products near you. In this instance, you can get these products without paying for shipping, which is even more convenient.
Final Thoughts on Floyd's of Leadville
We like Floyd's of Leadville. It's a great brand with a massive product range and many upsides. For example, the costs are reasonable, and certificates of analysis are published on the site. There are very few improvements that Floyd's of Leadville can make.
That said, shipping is $5, and some customers are expecting fast delivery. This does not always seem to be the case, which is perhaps something that this brand can work on in the future.
Verdict: 8/10
While you're here, make sure you have a read of our Charlotte's Web review.