Candyland Strain Overview
The Candyland strain is both sweet like candy and earthy like a pine forest. It offers recreational users a relaxing and happy high and medicinal consumers potential relief from pain and fatigue.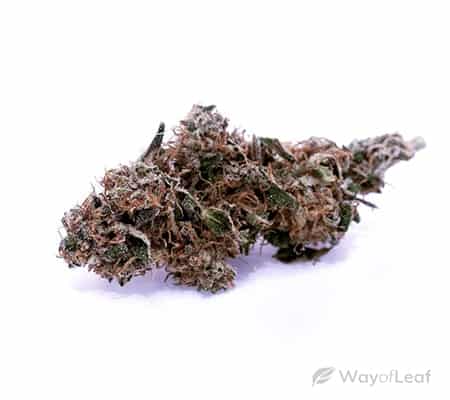 Common usage
Anxiety
Fatigue
Nausea
Effects
Appetite
Relaxation
Sleep/Sedation
Growing info
CAN BE GROWN BOTH INDOORS AND OUTDOORS. THE FLOWERING PERIOD IS BETWEEN 8-9 WEEKS INDOORS AND LATE SEPTEMBER OUTDOORS. BUY SEEDS FOR THIS STRAIN AT OUR #1 RATED
ONLINE SEED STORE: HOMEGROWN
This beautifully aromatic strain is the creation of legendary cannabis cultivator and breeder Ken Estes. As many cannabis lovers will know, Ken has a history of producing top-quality strains. The most famous of which is one of Candyland's parents, Granddaddy Purple. GDP a fusion of two indicas, namely Purple Urkle and Big Bud.
In 2012, a record 50,000 people attended the KushCon awards in Denver, where Candyland won a gold medal. Candyland also scooped the top prize at the 2018 ERRL Cup in Arizona in the Best Sativa Flower category.
Read on to find out more about this award-winning strain to see what it has to offer.
What Is the Candyland Strain?
The Candyland strain is a sativa-dominant hybrid and a cross of the indica Granddaddy Purple and Bay Platinum Cookies.
Candyland's THC content varies depending on the potency of the particular bud that you get your hands on. It can be relatively mild, around 14%, but it can also be as high as 19%.
Candyland's high starts with a feeling of euphoria, which tapers off gradually. Most users say that this strain leaves them feeling happy, uplifted, and energized. Therefore it is best suited to daytime use.
Aroma
Candyland's fragrance is a combination of sweet, piney, herbal, earthy, and pungent aromas. This rich mixture combines to give Candyland its unique and pleasant fragrance.
Flavor
This strain is renowned for its sweet candy-like taste, hence the name. It also has several prominent flavors that come to the fore when smoked. A sweet, fruity, berry flavor combined with earthy, piney notes make Candyland a real taste sensation.
Appearance
Candyland is quite a tall plant when fully grown. It has small, dense, green buds, which can turn almost purple in some plants.
During the flowering stage, a Candyland plant becomes heavily frosted with trichomes. These cover the entire plant by harvest time. It also has long and thin, dark orange pistils that grow prominently around the leaves.
Candyland Strain Grow Info
The good news is that experienced Candyland cultivators rate it as easy to grow. One reason for this is that the plant is highly resistant to mold and mildew. Therefore, humidity levels are less of a concern when growing this plant indoors.
While you can grow Candyland indoors or outdoors, it thrives outside, particularly in a warm, sunny, and dry climate. This plant grows quite tall and lanky. Its skinny frame comes under a lot of pressure from the added weight of the growing buds as they begin to flourish and multiply. Therefore, you will need to use supports to help your Candyland plants manage the extra weight.
An average Candyland plant grown outdoors can yield as much as 35 ounces per plant.
The average yield produced by growing a Candyland plant outdoors as opposed to indoors is almost a night and day difference. An average Candyland plant grown outdoors can yield as much as 35 ounces per plant. On the other hand, one grown indoors produces an average yield of about 14 ounces per square meter. That's a huge difference.
Indoors, Candyland flowers around 8-9 weeks, while outdoors, late September or early October is ideal for harvesting.
THC Content – Highest Test
Reportedly, the Candyland strain can contain up to 19% THC.
CBD Content – Highest Test
Candyland contains only a small amount of CBD, typically 1% or less.
Medical Benefits of the Candyland Strain
Candyland is a rather unique strain in terms of its cannabinoid profile. According to Potbotics, Candyland has "no detectable amounts of CBN, CBG or THCV." What it does have, however, is a cannabichromene (CBC) level of 0.329. CBC is a non-intoxicating cannabinoid, which binds with receptors in the body linked with pain perception. Therefore, this strain may help alleviate some painful conditions.
Many recreational Candyland consumers say that its uplifting high is excellent for stress relief. The Candyland strain may also offer temporary relief to those suffering from mood disorders such as depression and anxiety.
As Candyland reportedly does not contain any CBN or CBG (cannabinoids known for inducing sleep), it is not a good option for insomniacs. On the contrary, its energizing effects make it much better suited for providing a short-term energy boost to those with chronic fatigue.
Recreational consumers describe Candyland as a great "wake and bake" strain. These types of strains have energizing effects which can help consumers get through a busy day.
Candyland's use as an appetite enhancer is rated relatively low. Medicinal cannabis consumers looking to address nausea will likely not find Candyland as helpful as alternative strains.
Possible Side Effects of the Candyland Strain
Candyland users may experience dry mouth or dry eyes after smoking this strain. Some Candyland consumers say that this strain can also cause anxiety, dizziness, and paranoia. However, these adverse reactions are typically uncommon and are likely associated with overindulgence.
Final Thoughts on the Candyland Strain
Candyland's uplifting, mood-enhancing effects make it a good option for both recreational and medicinal cannabis consumers. Also, due to its energizing effects, it is a popular choice among cannabis users who like to 'wake and bake.'
Due to its energizing effects, it is a popular choice among cannabis users who like to 'wake and bake.'
Most experienced cannabis users should find Candyland's THC range of 14-19% very manageable, as long as they don't overindulge.