Blackberry Strain Overview
The Blackberry strain is a frosty and slightly purple-hued bud that resembles the berry for which it was named. It even has a delicious berry flavor, along with refreshingly earthy and sweet undertones. This strain is known for its energetic and upbeat high, and is great for morning or afternoon use.
Flavors
Blackberry
Earthy
Sweet
Common usage
Anxiety
Chronic pain
Depression
Effects
Body high/numbing
Energy
Relaxation
Growing info
This strain is best grown indoors, average flowering time indoors is approximately 9-11 weeks. BUY SEEDS FOR THIS STRAIN AT OUR #1 RATED
ONLINE SEED STORE: HOMEGROWN
This mouth-watering hybrid is one of the marijuana world's go-to strains for a genuinely delicious smoke that will leave you feeling blissfully cerebral for hours. Not to be confused with the much heavier Blackberry Kush, today's bud is a taste sensation with a stunning balance of sativa and indica properties.
If you haven't yet sampled the wonder that is Blackberry, stick around to find out what you are missing as we delve right into what makes this bud a favorite!
What is Blackberry?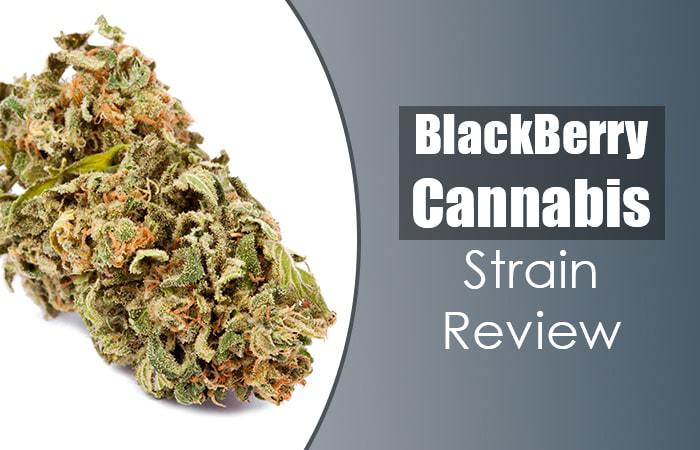 Blackberry originates from a Dutch company known as Nirvana Seeds, first hitting the market in 2009. The company decided to cross their Raspberry Cough with a potent indica clone known as Black Domina. As a result, we have this fruity bud offering a sativa buzz with a tantalizing pull of indica.
The THC levels of Blackberry are pretty impressive at between 20-26%, making it a nice strong bud, while the hybrid balance levels things out making it great for those who are less experienced smokers as well.
Blackberry is widely accessible in California particularly and is a go-to medical strain for its mind-body relaxation perfect for anxiety, depression, and stress as well as chronic pain.
Blackberry Aroma, Flavor, Appearance
Up there with some of the most stunning buds on the market, Blackberry is a sight to behold. Offering frosty buds with a purple tinge, you will be able to spot this one a mile off!
The structure of this flower is tight and narrow, typically found in sativa strains, but the frosty buds with vibrant orange pistils and more trichomes than you would know what to do with make it a stand outgrow.
When it comes to aroma and flavor, Blackberry steals the show with fruity notes of fresh berries and a fuel undertone – this one is particularly mouth-watering. At first smell, you will pick up on strong notes of fruit and almost a fresh scent of nature and earth. Upon inhaling you will be hit with a fusion of sweet, fruity berries, which will 100% have you coming back for more!
Famed for its wonderful palette, this is a go-to favorite for those who use marijuana to medicate as it tastes so good!
Blackberry Grow Info
We would recommend that those looking to cultivate Blackberry for themselves do so indoors, however, be warned that this beauty is pungent, so if discretion is necessary you may want to consider your options.
For those who can afford to grow this wonderful plant, you will benefit from decent yields that are usually around 400-500g/m². Be prepared for those stunning color changes towards the end of flowering as the leaves take on a dark purple hue and the buds become a deep shade of green, it is a sight to behold! Flowering is usually between 9-11 weeks.
Medical Benefits of Blackberry
Blackberry is an interesting strain. While it is a pretty balanced hybrid it certainly airs on the sativa side when it comes to effects. If you are looking for a sedating bud, this may not be the one for you; instead, you will be met with a boost of energy, and a cerebral high that is long lasting.
Many sufferers of anxiety, depression, and stress reach for Blackberry as it does light work of boosting your mood and leaving you feeling sociable and full of energy for hours, making it a wonderful daytime strain.
Despite the thick smoke, the effects are very clear-headed and so shouldn't stop anyone from getting on with their day. However, there are indeed some noticeable indica undertones that lurk, leaving you relaxed as well as energetic, and could lend itself to a good night sleep after a jam-packed day.
The numbing body effects of this flower are ideal for chronic pain sufferers as well!
Possible Side Effects of Blackberry
When it comes to side effects of Blackberry, we can only really give the usual disclaimer. There have been no worrying symptoms associated with this bud, but we would recommend newbies tread carefully, and go in a little at a time to avoid any unwanted highs.
Users may experience dry mouth and eyes, and we would not recommend anyone reaching for Blackberry in replacement of their medication without speaking to a doctor.
Final Thoughts – Is Blackberry on Your List?
Whether you are a newbie to the pot world or love a regular hit of your favorite flower, Blackberry is just one of those buds you HAVE to try!
We would love to hear your experiences with this one, or if you haven't tried it yet, have we convinced you to add it to your list this year? Let us know down in the comments!