CBD users looking for a tasty way to consume cannabidiol have often found themselves looking at vaping. CBD oil vapes are convenient and delicious, providing a treat that you can look forward to. There are many advantages to CBD vaping, but also several potential issues.
Experienced vapers often possess high-tech equipment, which can be expensive and complicated. Those new to vaping have to start somewhere, which means purchasing a vaporizer and an e-liquid. Typically, newbies begin with a simple CBD vape oil pen, which resembles a cigar in shape.
This in-depth review will compare three of the top CBD vape pens on the market, including disposable and refillable options. Furthermore, we provide their pros and cons, along with safety concerns.
A Quick Note Before We Start
Most people are aware of how popular vaping has become in recent years; we'll go into further details regarding the recent vaping epidemic a little later on. However, it's important to note that it has had severe repercussions on the CBD vaping industry as a whole. The Prevent All Cigarette Trafficking (PACT) Act regulated the mailing of smokeless tobacco products and cigarettes directly to customers via the United States Postal Service.
Congress amended the PACT Act to include all vaping products in February 2021. This occurred via the implementation of the Preventing Online Sales of E-Cigarettes to Children Act, which is part of PACT. Therefore, a significant number of brands have stopped shipping CBD vape products to customers. And as a result, you may find it challenging to purchase them online.
Instead of using USPS, CBD sellers must now use more expensive services. These delivery services must verify that all customers are aged 21+.
What Is a CBD Vape Pen?
It is a vaporizing device that resembles a pen because it is long and thin. It's an electronic piece of equipment filled with CBD e-liquid. When switched on, the vape pen heats the CBD liquid and turns it into a vapor that you inhale.
All you need to do is click a CBD cartridge into the pen or drip in the e-liquid. When the pen is switched on, it heats the e-liquid and turns it into a vapor, which the user inhales. It's best to buy a CBD vape pen designed for cannabinoids, as it is guaranteed to reach the right temperature to vaporize the CBD.
If you can change the temperature settings, you might want to look at the boiling points of different terpenes. As long as your cartridge is full-spectrum, you can benefit from the effects of specific terpenes contained within the e-liquid by vaporizing it at different temperatures.
The best CBD vape pens allow you to control the temperature settings, making for a customizable experience that provides you with the most benefit. There are many reasons to love CBD vapes, so let's check out some of the pros and cons.
Pros and Cons of Using a CBD Vape Pen
CBD vape pens tend to be very user-friendly and easy to use.
For those new to vaping, vape pen starter kits provide a cost-efficient way to get started.
The e-liquids in vape pens are often very tasty.
Vaping CBD is quick, convenient, and discreet.
Proponents believe that vaping provides higher bioavailability and faster effects.
There are some health concerns about the long-term safety of vaping.
Depending on the model, some vape pens can be quite expensive.
Disposable vape pens are not very environmentally friendly.
WAYOFLEAF'S CHOICE – CBDFX
In a bit of a hurry? If you don't have time to read the full review, you should know that we chose CBDfx as our winning CBD vape pen. We selected this brand due to the range of products on offer and their affordability, as well as battery life in the CBD Vape Kit.
CBD Vape Pen Review – What Type of Device to Pick?
One of the first choices you have to make is choosing between a disposable vape pen or a refillable one. The difference is that disposable vape pens offer one cartridge filled with e-liquid; once it runs out, you throw the entire pen away. Keep reading to find out more about each one.
What Is a Refillable CBD Vape Pen?
Any vaporizer that you can fill with CBD e-juice can be classified as a refillable CBD vape pen. Typically, such devices have a tank attached to a rechargeable battery. One major advantage over the more comprehensive mod and tank combination is that refillable pens are smaller and lighter. While some brands provide pens ideal for a tight mouth to lung draw, others are suitable for direct lung vaping.
If your tank is empty, here are a few tips on filling it back up:
Unscrew the mouthpiece, and remove the tank.
Fill it with the CBD juice of your choice. Ideally, you will buy e-juice bottles with fine tip droppers; these make it easier to pour the liquid into the tank. A syringe is another option.
Avoid filling the tank to the top. Otherwise, it could overflow once you put the mouthpiece back on.
Wait approximately 15 minutes to prime the coil. If you use a thick CBD juice, wait a little longer.
You'll know it is time to change your e-juice once it starts tasting burnt or the flavor has diminished significantly.
If you don't like the idea of filling a tank, you can also purchase a pre-filled cartridge. These are already filled with CBD vape liquid and are easy to put on your vaporizer and take off. CBD disposable vape pens are another option.
What Are CBD Disposable Vape Pens?
As the name suggests, a disposable CBD vape pen is designed for one-time use. Once the CBD juice is depleted, you throw it away and buy a new one. These devices contain an atomizer, a battery, and a specific amount of CBD liquid. Disposable vape pens are convenient to use and are generally draw-activated. This means they only produce the vapor while you actively puff on it.
In general, most brands sell such pens with a CBD content of 100-200mg. You can expect each puff to deliver approximately 2mg of cannabidiol.
Should You Choose a Disposable Vape Pen or a Refillable Version?
Each one has its respective advantages and disadvantages. Let's take a closer look.
Refillable CBD Vape Pens
Refillable pens are more expensive initially since you have to purchase the device and CBD liquid. However, you'll save money in the long term after your initial investment. There are also plenty of options regarding brands and flavors. Refillable pens tend to provide a better user experience with flavorful liquids and large clouds of vapor.
Then again, refillable pens are usually less discreet than their disposable counterparts. Also, you need to ensure they are charged, or else they won't work. Check out this table to learn more about their pros and cons.
Refillable CBD Vape Pen Pros and Cons
Pros
Usually more powerful than disposables.
Better for the environment.
You can change cartridges to enjoy more flavors.
Greater cloud production.
Typically includes adjustable airflow options.
Suitable for various vaping styles.
Cons
A high initial cost.
It is necessary to charge them.
There's a slight learning curve involved.
Requires maintenance.
Less discreet than disposables.
Disposable CBD Vape Pens
If you're new to vaporizers, a disposable CBD vape pen is an easy way to get started. You don't need to buy any additional parts, and using it is as easy as puffing on the mouthpiece. Once the liquid is finished, you can dispose of it and buy a new one. Also, it is easy to use this device discreetly, even in public.
However, while disposable CBD vape pens have a lower one-time cost, you'll find that they become more expensive if you use them long-term. They are generally limited to the mouth-to-lung draw style, produce few clouds, and offer less intense flavors. Let's see an overview of their pros and cons.
Disposable CBD Vape Pen Pros and Cons
Pros
Lightweight and easy to use with no learning curve.
Allows for discreet use.
No maintenance is required.
It acts as a low-cost way to try CBD vape pens for the first time.
Cons
More expensive than refillable pens in the long term.
A limited selection of flavors.
Low cloud production.
Most brands don't offer disposable pens with direct lung action.
You can't adjust power or airflow.
Disposable vape pens are usually better for those who have never tried vaping, offering a low-cost option to try it out. On the other hand, refillable pens are best for those who enjoy vaping and do it regularly.
Harmful CBD Vaping Products – Spotting the Warning Signs
There have been some concerns recently about the potential risks of vaping. The 2019-20 vaping lung illness outbreak claimed 60 lives, and over 2,700 people were hospitalized. After reaching a peak in September 2019, cases of illness relating to vaporizer use have dwindled markedly.
However, most users who became seriously ill later admitted to using black market THC cartridges. The suspicion is that high vitamin E acetate levels were primarily responsible for the sicknesses. A recent study shows that Pine rosin is another possible extract responsible for causing the outbreak.
The government acted swiftly in response. In January 2020, the FDA issued an enforcement policy on unauthorized flavored cartridge-based e-cigarette products. The good news for CBD vaporizer sellers is that the ban is related to electronic nicotine delivery systems (ENDS). Yet, the PACT Act soon placed CBD vape pen sellers under severe strain.
Also, there is no guarantee that all CBD vaping products are safe either.
What Research Says About Vaping CBD
While CBD itself is relatively safe to use, CBD vape juice is a different story due to the thinning agents it contains.
In 2017, The Journal of Alternative and Complementary Medicine published a study on several of these agents in CBD e-liquids. These included:
Propylene glycol (PG)
Polyethylene glycol 400 (PEG400)
Vegetable glycerin (VG)
Medium-chain triglycerides (MCT)
The researchers found that PG and PEG400 are more likely to be harmful than natural ingredients like MCT and VG. Out of the two, PEG400 was the worst offender. The researchers discovered that it could expose users to harmful levels of formaldehyde when it is broken down in a vape pen.
A lot of brands typically use a blend of PG and VG, even though there's a chance that both ingredients release carcinogenic compounds when heated. Some brands also use MCT, which is considered safe by many users.
However, in Colorado, the Marijuana Enforcement Division (MED) banned MCT as an additive to THC vaping liquid in 2020. According to the MED, MCT can also produce acetaldehyde and formaldehyde when heated. Previously, conventional wisdom stated that avoiding PEG400 was your best bet when vaping CBD oil. Yet today, there are doubts over VG, PG, and MCT as well.
In response, a growing number of CBD vape product sellers are using terpenes as thinning agents. However, in July 2020, Tokyo Smoke issued an email telling companies to stop selling the company's carts and filled pens. The reason? Because they contain the terpene, phytol, which is also potentially harmful when heated.
We eagerly await research that outlines the safest thinning agent to use in CBD vape pens.
Which Brand Offers the Top Rated Vape Pens?
There are hundreds of CBD oil vape pens on the market, but we selected three top brands in our CBD vape pen review. Please bear in mind that your options are limited due to the aforementioned PACT Act. Therefore, you may find it difficult to find CBD vape pens from any brand. For example, Social CBD doesn't sell its range of vape products at present. You might find their vape pens available from third-party sites, however.
In any case, we believe the following brands are worth investigating if you're in the market for a CBD vape pen.
CBDfx
Gentleman's
Social CBD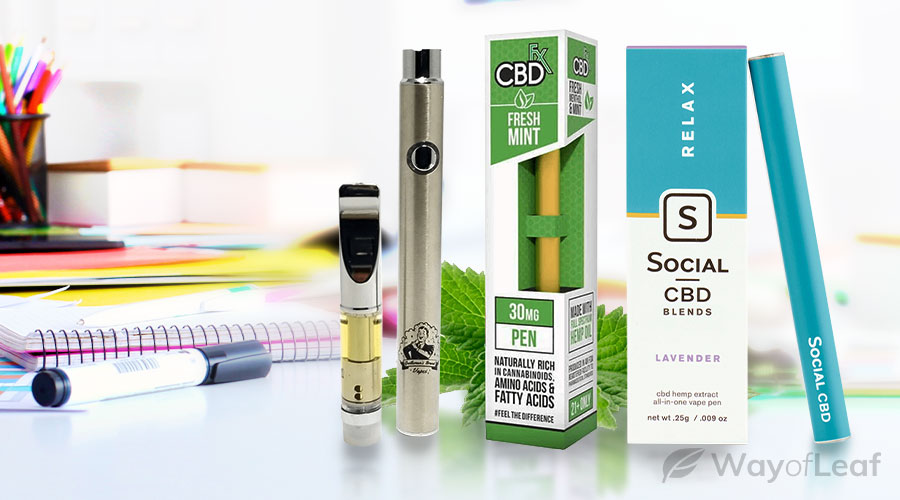 We compared them according to several features, including battery life, airflow, and cost. We also chose the best refillable option and the best disposable pen.
1
Best Refillable CBD Vape Pen
Although refillable vape pens are more powerful, some of our best picks are disposable vapes. Social CBD doesn't sell a refillable pen, so this category comes down to the other two brands.
Gentleman's specializes in refillable vape cartridges. There are two options: The Liaison Pen and the Double Agent Deluxe. Both are sleek, silver vape pens compatible with any 510-thread cartridge, which is the standard. They're pretty stylish, but the Liaison Pen is basic because it's essentially just a battery. Meanwhile, the Double Agent pen has adjustable settings, so for us, it is the best of the two.
CBDfx offers both refillable vape pens and disposable options. We also think that CBDfx offers the best CBD oil vape pen starter kit. The CBD Vape Kit offers a battery, cartridge, charger, instructions, and a connector. It's a bit heavier than the Gentleman's option because it's less of a pen and more like a proper vaporizer.
The CBDfx vaporizer is compatible with any of the CBD e-liquids sold on the site. CBDfx has an amazing range of flavors, making this pen more adaptable than the Gentleman's brand option. In the end, it depends on whether you want a sleek design or better customization. We settled on the better flavor options and the best starter kit.
WINNER BY EFFICIENCY – CBDFX
2
Best Disposable CBD Vape Pen
As far as disposable vape pens go, the Gentleman's brand offers one option. Each pen contains 40mg of CBD and lasts for 50-75 puffs. It's a steel, buttonless option available in six flavors. It is also decently priced.
Social CBD has an excellent range of disposable vape pens. They fall into the categories of Relax, Focus, and Revive; customers can choose between six flavors. In several of the flavors, you can also choose between 125mg and 250mg. All of the pens are sleek and small, making them portable. They all come in Social CBD's signature colorway, and we think it's a beautiful design. By the way, Social CBD uses MCT oil.
CBDfx has the largest range. There are six flavors, and six 'terpenes' options flavored like particular cannabis strains. Don't worry – they all contain less than 0.3% THC. Each CBDfx vape pen contains 30mg of CBD and comes in a cute yellow color. The terpene options contain 50mg and are white.
Judging based on the ingredients and the potency, we liked Social CBD the best.
3
Best Airlow (Adjustable)
Only Gentleman's offers adjustable airflow on its disposable vape pen out of the three brands reviewed here. The Double Agent 2.0 pen offers three voltage pre-sets. They're also color-coded, making the pen easy to use.
WINNER BY BETS AIRLOW – GENTLEMANS
The two refillable vapes will keep you going the longest because they're rechargeable. For Gentleman's, the Double Agent pen has the largest battery. It's a 350mAh lithium-ion battery.
CBDfx, meanwhile, offers a 1000mAh lithium battery, which is much stronger. Bear in mind that the CBDfx vaporizer is larger and less portable, but this does allow it longer battery life.
As for the disposable pens, they have similar battery lives. Given that Social CBD's is the strongest option, you get more bang for your buck.
WINNER BY BATTERY LIFE – CBDFX
Out of the refillable vape pens, the Gentleman's Double Agent pen is the best value for money once you factor in the cartridges and e-liquids. Both of these options are much more expensive than disposables, however.
Here is the price per milligram of the strongest options from each brand:
CBDfx (50mg): $0.4 per milligram
Gentlemans (40mg): $0.4 per milligram
Social CBD (250mg): $0.2 per milligram
Although the Gentleman's Vape is the cheapest overall, Social CBD offers the best value for money by far. If you're looking for CBD on a budget, Social CBD saves you money long-term by offering greater potency.
To throw a spanner in the works, CBDfx also offers bundles. A 3-pack of mix and match terpene pens is 15% off the usual price, working out at $0.3 per milligram. As a result, our best budget CBD vape pen is the CBDfx Build Your Own Terpene Pens Bundle.
The Best CBD Oil Vape Pen – Things to Consider
Before you consider any brand, make sure their products tick the following boxes:
High-Quality Hemp Source: The best CBD vaporizer products come either from American or EU-grown hemp. In both cases, growers must adhere to strict quality standards. In the United States, please ensure the crop comes from a farmer licensed under either the state's hemp program or the USDA version.
Third-Party Lab Reports: Don't buy any products that lack third-party lab reports; it's as simple as that! The CBD industry remains highly unregulated, which means low-quality items pollute the marketplace. Third-party reports outline the cannabinoid content of products. They also prove that the brand doesn't allow chemicals such as insecticides to taint what they sell.
Labeling: Certain states have labeling requirements, but not all. Make sure the product label clearly outlines the ingredients and CBD content. Check out your state's laws to see any further information on specific rules on labeling.
Thinning Agent: Popular thinning agents such as PG produce carcinogens when heated to a certain temperature. A growing number of CBD brands now avoid including agents such as VG, PG, PEG, and even MCT.
Cost: Shop around to find the best value CBD vape pen by all means. However, if you notice a clear disparity between a brand you've never heard of and the rest of the field, exercise caution. The top-rated companies use CO2 extraction to take the cannabinoids and terpenes from hemp. This is an expensive process that's generally reflected in the cost.
Final Thoughts on the Best CBD Vape Pen
Choosing the best overall CBD vape pen was difficult, not least because of the various types! In the end, we had to choose CBDfx. This is a brand that offers multiple types of vape pens, including refillable and disposable options. With such a variety of flavors to choose from, you'll never get bored.
When it comes to CBD vape pens, you need to research each brand thoroughly. Make sure they use CO2 extraction from hemp grown in the United States or the EU. They must also provide third-party lab reports with every batch. It is also essential to take note of the thinning agent used in the liquid. Research shows that many additives previously considered 'safe' are potentially harmful.
Make sure you visit the CBDfx website to view the full CBD vape range.