Most people are familiar with cough syrup, which is often sweet-tasting. CBD syrup has a similar texture and taste but is infused with cannabidiol. The debate surrounding CBD continues to rage as the FDA refuses to approve it. Therefore, we are faced with an unregulated industry for the most part.
It also means suppliers of the cannabinoid are unable to make any medical claims. As a result, they can only say vague things about CBD-infused syrup. In this article, we check out the best CBD syrup on the market. We also provide a little more information on this unusual way of consuming cannabidiol.
What Is CBD Syrup?
There is no mystery here; it is a thick, often sweetened, substance that is infused with CBD. Proponents of it suggest it works with the body's endocannabinoid system (ECS). Some people use it to boost appetite and decrease nausea. Others believe it helps manage the symptoms of conditions such as sleep disorders, chronic pain, and arthritis.
Those who try it do so mainly to avoid the bitter taste of organically grown hemp. It usually tastes great and is easy to measure. What you need to watch out for is the list of ingredients in each product, as we explore in further detail below.
Pros and Cons of Using CBD Syrup
A useful alternative method of consuming CBD.
Usually tastes great due to the addition of sweetener.
It is easy to measure how much is in a single teaspoon or tablespoon.
Several reputable brands have begun selling CBD syrup.
You can mix it with food or drink.
Relatively few brands have delved into the syrup market, so your choice is limited at present.
It is rather expensive.
You should not mix it with alcohol because it may cause drowsiness and sedation.
Many CBD syrups contain sugar or high fructose corn syrup.
A bottle isn't likely to last very long.
WAYOFLEAF'S CHOICE – HEMP BOMBS
If you don't have time to go through the entire article, we can tell you that Hemp Bombs is the outright winner. It offers the highest concentration of CBD, a good price point, and an awesome taste.
How Does CBD Syrup Compare to CBD Oil?
Frankly, much of what is written about CBD syrup is supposition, especially when comparing it to other consumption methods. One thing we know is that syrup is usually a lot thicker than CBD oil. You are unable to use either product in a vaporizer due to the viscosity and lack of thinning agents. CBD-infused syrup is usually a lot sweeter than a tincture.
Aside from the above, there are more similarities than differences. Both are forms of oral consumption, though you can also absorb CBD oil sublingually by holding it beneath the tongue. Either way, the cannabidiol must go through the first-pass metabolism as it travels through the digestive system and liver. Eventually, it reaches the bloodstream. Both oil and syrup have relatively low bioavailability rates. It is likely that only 13-19% of the CBD you consume makes it to your bloodstream.
Proponents of CBD syrup suggest it lasts longer than its oil counterpart. The claim is that you feel the effects of syrup for up to six hours. In contrast, the impact of a CBD tincture wanes after three hours. There is little evidence to support this suggestion, and users should take such claims with a large pinch of salt.
Whether you use oil or syrup, it will probably take 20-30 minutes before you 'feel' anything, and that's on an empty stomach. The time frame increases to an hour if you take the CBD on a full stomach. If you prefer a faster-acting form of cannabidiol, vaping is a better option, though the effects are more fleeting.
What Do Brands Add to CBD Syrup?
This is the million-dollar question! Remember, the CBD industry is unregulated in all but a handful of states. It is essential that you only deal with brands that offer third-party lab reports. Otherwise, you have no idea if the company is telling the truth. Most products on the market contain full-spectrum CBD with less than 0.3% THC. There is also broad-spectrum cannabidiol that contains no THC, and isolate which contains up to 99% CBD.
While the best CBD syrup options could contain natural sweeteners, others will have high fructose corn syrup or sugar. Neither option is necessarily 'bad.' Even if the concoction has a lot of sugar, you only take a relatively small amount each day. Nonetheless, make sure you check the label if you are against the inclusion of sugar in CBD products.
Apart from hemp extract and sweetener, a CBD syrup may include ingredients for specific reasons. For example, melatonin can help you get to sleep faster. Other brands add herbs such as valerian for relaxation purposes.
These ingredients may dictate when you decide to use the product. You are best served using a syrup with melatonin 30-60 minutes before bedtime, for example. If the ingredient list doesn't have anything that causes drowsiness, you can use it during the day.
You will need a teaspoon or tablespoon to consume CBD-infused syrup, and can easily measure how much cannabidiol you are using. For example, if there is 600mg of CBD in a 60ml bottle, you get 10mg of CBD per ml. A teaspoon (5ml) of this product contains 50mg of CBD. A tablespoon (15ml) contains 150mg.
How to Make CBD Syrup
If you are unable to find one of the best CBD syrup products we outline below, perhaps you can try a DIY version? Please note that you will struggle to match the texture of a brand-name product. The top products could also include ingredients you are unable to find easily. Therefore, what you create is likely a less effective version. On the plus side, it is cheap to make, and you can add more CBD than what you will find in a syrup!
Before you proceed, make sure you have one of the following: A slow cooker, double boiler, or a saucepan. You also need an airtight container to store it. A glass mason jar is ideal. Here are your ingredients:
A tablespoon of vegetable glycerin (VG); what you often find in vape juice.
A cup of honey, sugar, agave, stevia, or whatever your sweetener of choice is.
A cup of water.
CBD isolate. It is up to you to determine the concentration of your syrup. This recipe offers approximately 16 ounces. If you want 25mg of CBD per serving, for example, add slightly more than 400mg of the isolate.
Here are the steps:
Bring the water to a simmer and stir in the sweetener.
Cover and simmer for another 20 minutes.
Stir in the VG and continue stirring for five minutes.
Turn off the heat and strain the syrup if adding herbs.
Stir in the isolate and continue mixing until you are satisfied with the texture.
Allow to cool for an hour, and place in a glass jar before it completely cools.
You can add herbs such as lavender, mint, citrus peels, and lemongrass if you wish. It is not the same as a brand syrup and works best as an addition to a hot drink or dessert.
What Brand Provides the Best CBD Syrup of 2023?
Though it is a fledgling market, there are a wide number of brands offering this product. After giving it a lot of thought, we finally found what we believe is the best CBD syrup on the market. We narrowed it down to these three brands and compared across five categories:
Hemp Bombs
CBD Living
Cloud N9ne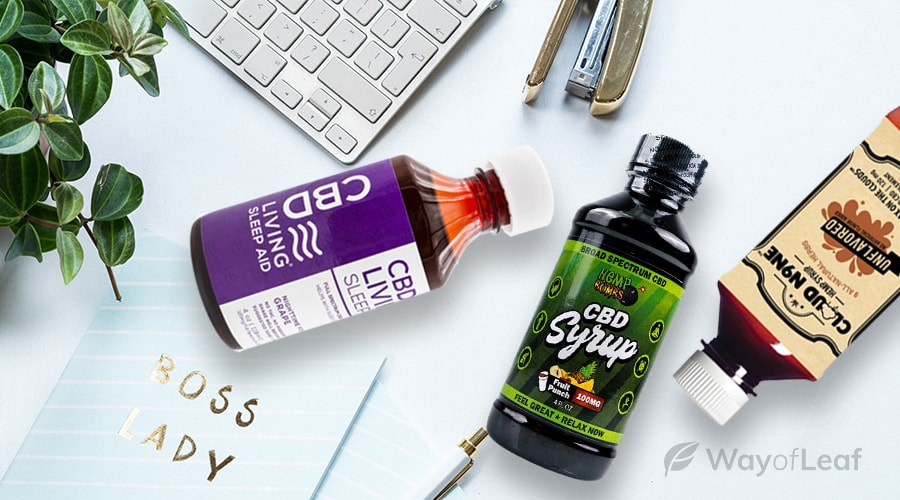 While there is only one Cloud N9ne CBD syrup concentration, it is extremely popular with customers. However, it is the weakest of the three options in terms of CBD per bottle at 120mg. With 4oz in a container, you get around 1mg per ml, which equates to 5mg of CBD per teaspoon.
The CBD Living options contain 200mg of CBD in 4 fluid ounces. This equates to approximately 1.66mg per ml or 8.3mg per teaspoon. Hemp Bombs is the only one of the trio to provide more than a single concentration. You can get 100mg, 300mg, or 1000mg. The latter option also comes in a 4fl ounce bottle. On this occasion, you get around 8.48mg of CBD per ml, and a whopping 42.37mg per teaspoon. That said, Hemp Bombs says it is 41.7mg per serving. Even so, it is the clear winner in this category.
WINNER BY CBD CONCENTRATION – HEMP BOMBS
There is a lot we can say in favor of all three CBD syrups on this list. The Hemp Bombs option has a delightful fruit punch flavor. That said, a few customers suggest it is potentially on the sickly-sweet side of things. The CBD Living syrups come in cherry and grape flavor, both of which are extremely pleasant.
However, we have to give it to Cloud N9ne. All four of its flavors are sensational. The Blueberry one is the easiest to find and is highly recommended. However, it is also worth tracking down the bubble gum, grape, and watermelon flavors too.
WINNER BY TASTE – CLOUD N9NE
3
Healthiest CBD Syrup Ingredients
There is always a risk of a few unhealthy ingredients sneaking into a CBD syrup. However, these three brands try their best to minimize unwanted extras. The Hemp Bombs syrup contains high fructose corn syrup, which will not please everyone. It also includes artificial punch flavor, but most other ingredients, such as VG and PG, are standard.
CBD Living is a healthier option with sugar cane, deionized water, and natural colors and flavoring. However, Cloud N9ne is arguably the best option here. It does include food coloring but also has nine highly concentrated, all-natural herbs, hence the product's name.
WINNER BY INGREDIENTS – CLOUD N9NE
4
Best Syrup for Relaxation
All three brands have designed their products for relaxation as they all contain a semblance of melatonin. You should find yourself feeling a little sleepy if you consume enough of any of these CBD infused syrups. However, we discovered that the Hemp Bombs 1000mg option was the best if you wanted to relax after a long, hard day at work.
WINNER FOR RELAXATION – HEMP BOMBS
For all its many qualities, the syrup sold by Cloud N9ne is by far the most expensive option. There is just 120mg of CBD in each bottle, and it costs $24.99. This is the equivalent of over $208 per 1000mg! Yes, it tastes great and has a lot of outstanding properties. However, it is hard to justify the expenditure when there are many better-priced rivals.
Here is how the three Hemp Bombs options are priced:
100mg: $19.99
300mg: $49.99
1000mg: $99.99
You only start to see value with the final option. However, it is CBD Living that provides the best value for money. Each 200mg bottle of CBD syrup costs just $15. Five bottles offer 1,000mg of CBD for $75.
WINNER BY BUDGET – CBD LIVING
Conclusion
CBD infused syrup is a novel method of consuming CBD. If you have a sweet tooth and don't like the bitter taste of hemp, it is worthy of consideration. However, please note that syrup contains sugar, and is also pretty expensive! Stick with brands that provide lab reports, and continue reading our site for updates on the best CBD syrup sellers.
Cloud N9ne is a great option and has a beautiful, fresh taste. Alas, it is exceedingly expensive, even for a typically costly type of product. CBD Living sells the best value for money syrup with a reasonable concentration.
Ultimately though, we have settled on Hemp Bombs as the #1 CBD syrup of the year.
WAYOFLEAF'S CHOICE – HEMP BOMBS
It does contain some artificial flavoring, but the taste makes it worthwhile, though it is not for everyone. You also get a massive amount of CBD per serving in the 1000mg bottle. Finally, it uses premium-grade hemp and is an excellent option in the evening.