With so many CBD products to choose from, finding the best CBD oil for energy on the market can be challenging. To help you choose the right one for you, we have reviewed ten different CBD energy products by leading brands. Each CBD energy product had to meet our exceptionally high standards, so rest assured, the ones that made the shortlist are the best CBD products for energy available.
Research suggests that in low doses, CBD may be invigorating
Market-leading brands now offer CBD oil for energy
You can buy CBD capsules for energy, as well as CBD energy drinks
Some CBD oils for energy contain added caffeine
Not in the mood to read the entire review? Check out our Editor's Pick for our team's #1 overall selection:
| Brand Name | Tommy Chong | Medterra | Fab CBD |
| --- | --- | --- | --- |
| Label | | | |
| Potency | 9.5/10 | 9.4/10 | 9.5/10 |
| Price | 9.5/10 | 9.4/10 | 9/10 |
| Duration of Effects | 9.5/10 | 9.6/10 | 9.4/10 |
| Lab Testing | 9.5/10 | 9.5/10 | 9.5/10 |
| Online Customer Reviews | 9.4/10 | 9.3/10 | 9.3/10 |
| Brand Reputation/Customer Service | 9.6/10 | 9.4/10 | 9.3/10 |
| Overall Score | 9.5/10 | 9.4/10 | 9.3/10 |
| Link to Purchase | CHECK PRICE | CHECK PRICE | CHECK PRICE |
| Coupon Code | 20% off: CBD20LIFE | 15% off: MB15 | 20% off: 20CBDOFF |
| Full Brand Review | Read Full Review | Read Full Review | Read Full Review |
Best CBD Oil for Energy 2023: One Thing We Liked About Each Brand
Top 10 Best CBD Oils for Energy
EDITOR'S CHOICE: Why Tommy Chong Makes the Best CBD Oil for Energy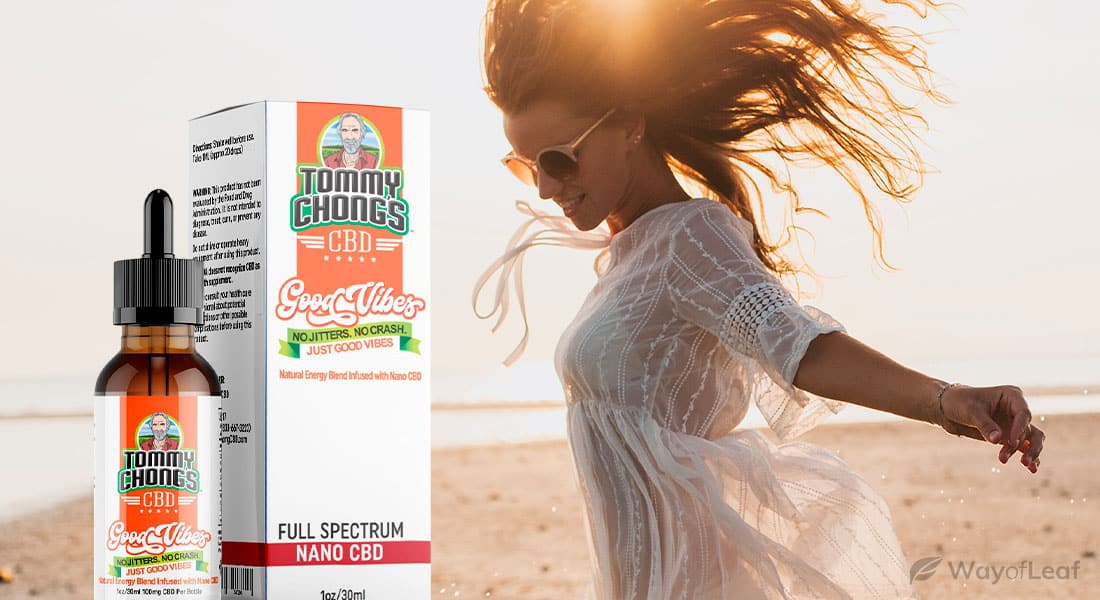 Why is Tommy Chong's Good Vibes Energy Tincture the best CBD oil for energy? Well, it excelled in every category in which we evaluated each of these CBD products.
Firstly, and most importantly, Tommy Chong's energy tincture provides a well-balanced, short-term energy boost. While this product contains caffeine, consumers say that it does not produce the characteristic jittery feeling and crash commonly experienced after consuming a high-caffeine energy drink.
Another thing that really stood out to us is the glowing customer reviews. We read numerous accounts of how people loved this product and were struck by how many reviewers said that Tommy Chong's Good Vibes Energy Tincture was the best CBD oil for energy they've ever used.
Apart from the hugely positive five-star reviews, we also were impressed by the fact that this product contains a natural energy blend infused with nano CBD particles for improved absorption.
How to Improve Your Mood and Energy
While CBD does not have intoxicating effects like THC, many say that they notice a perceptible change in their mood after consuming CBD oil. Indeed, one of the most common reasons people consume CBD oil is to address anxiety and feel more relaxed and calm.
In their product reviews, many CBD users say that consuming CBD oil as part of a general wellness lifestyle has helped them to feel more energized. They talk about feeling less stressed and anxious and how, as a result, they can now focus their mental energy on their everyday tasks.
Furthermore, beyond individual, personal accounts for the mood-enhancing effects of CBD, there is a wealth of empirical evidence demonstrating CBD's anxiolytic (anxiety-reducing) properties.
Can CBD Give You Energy?
It may seem strange to say that something that can make you feel more relaxed can also give you more energy. However, if you think about it, if you focus a large amount of your mental energy on worries and everyday stressors, then you will likely feel pretty exhausted most of the time. So, the anxiolytic effects of CBD may help by taking the edge off anxiety.
However, that is not the sole reason why CBD oil may offer a short-term energy boost. As CBD has biphasic effects, in low doses, CBD oil may provide a feeling of invigoration and mental stimulation, while in higher doses may instill a feeling of deep relaxation and calm.
Next, we'll discuss how to choose the best CBD for energy and mood.
Final Summary + Our Team's Top Pick
People familiar with CBD oil are well aware of the relaxing, calming effect of CBD. However, what is less well known is that many brands now offer CBD products, such as capsules or CBD oil for energy.
In our opinion, after thoroughly examining a selection of these products, Tommy Chong's Good Vibes Energy Tincture is the best CBD oil for energy.
20% COUPON CODE:
CBD20LIFE
VISIT OFFICIAL SITE