Overview
Whip up this tasty dessert in just an hour, providing a healthier alternative to marijuana brownies. It's vegan-friendly and suitable for everyone.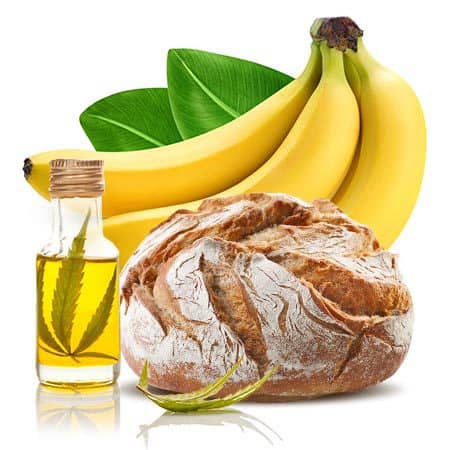 Best strains
Banana Kush, Bananas
Banana bread is a classic recipe and one that any budding baker should have up their sleeves. It's also an easy recipe to master, even if you decide to add cannabis. In fact, baking a loaf of marijuana-infused vegan banana bread is just as easy as cooking up a tray of pot brownies.
If you're craving a sweet treat infused with herb, then grab your favorite strain and stay tuned for this recipe. You'll need a few baking essentials and ingredients, but no professional cooking skills are necessary for this dish.
Banana Cannabis Strains
The first thing you'll need is a cannabis strain. If like us, you're 'bananas' about cannabis, then you will likely be familiar with the wealth of flavor profiles on offer at dispensaries. Whether you are looking for a strain that's sweet, savory, or heavy on the kush, there is something for you.
In this banana bread dish, the logical strain option is something with a subtle terpene profile – like Banana Kush. This strain is an indica-leaning hybrid that offers a sedative effect, so we don't recommend consuming it in the morning.
Whether you are looking for a strain that's sweet, savory, or heavy on the kush, there is something for you.
With a THC content of 22%, Banana Kush is a force to be reckoned with. As a result, it's best to limit the amount of Banana Kush that you add to any edible recipes, lest you end up "greening out" after one slice too many.
Of course, you could use any cannabis strain you like for this recipe. High-CBD strains like ACDC or Harlequin are ideal for those not looking to get high, and they're not so flavorsome to ruin the taste of the banana bread.
Canna-Oil or Cannabutter?
No matter what cannabis-infused dish you're baking, you'll need to make (or buy) either cannabutter or canna-oil. This recipe calls for canna-oil in order to make it vegan-friendly, although many cannabis banana bread dishes require cannabutter.
If you really want to pack a THC-filled punch with your banana bread, though, you can also make a cannabutter to spread on top of the banana loaf.
Luckily, making canna-oil is super simple. Below, we explain how to make it using the perfect measurements of Banana Kush for this cannabis-infused banana loaf.
The exact amount of cannabis you use for your recipe will depend on how much THC you want. Since Banana Kush is so potent, it's best to use a minimal amount. The recipe calls for 150ml (0.6 cups) of vegetable oil across eight servings. Using just 1g of Banana Kush will land you with 29mg of THC per slice. This is potent, so take caution!
How to Make Canna Oil:
Grind 1g of Banana Kush cannabis coarsely. (Grinding too finely will ruin the quality of your canna-oil).
Decarboxylate the cannabis by baking it at 220 degrees Fahrenheit for 30-45 minutes.
Add 0.6 cups (150ml) of vegetable oil to a double-boiler or saucepan. Heat it on low, occasionally stirring, for at least three hours. Make sure the oil never boils or scorches – the temperature needs to be kept really low
Strain the oil through a cheesecloth to catch the plant matter, funneling it into a jar or bottle. (Don't squeeze the cheesecloth as it can add more chlorophyll to the oil, resulting in a bitter taste). Discard the used plant material, and store the oil as necessary.
Canna-oil can last for up to two months – or longer in the fridge – so you can make a much larger batch and keep using it.
How to Mix up This Recipe
Once you've mastered this recipe, you can mix it up by adding supplementary ingredients such as the following:
Coconut: Add a subtle twist by spooning in two tablespoons of desiccated coconut before baking.
Chocolate: Mix through some dark chocolate chips for an extra sweet loaf.
Cranberries or blueberries: For a healthier alternative, stir in some extra fruits like cranberries.
Nuts: Hazelnuts, almonds, and walnuts all add a delightful crunch to an otherwise delicious banana loaf.
There are endless ways to make a simple canna-banana bread more exciting. If we missed your favorite fillings, be sure to let us know by leaving a comment below!
Cannabis-Infused Vegan Banana Bread Recipe
Now, it's time to start baking. It's best to use slightly overripe bananas, so if you've got some that are about to go off, throw them into this recipe! Let's get started.
Ingredients:
3 overripe bananas
5 cups (100ml) plant-based milk (oat milk works great)
6 cups (150ml) canna-oil
6 cups (150g) brown sugar
75 cups (275g) self-rising flour
1 tsp baking powder
1 tsp cinnamon
Toppings/Fillings of your choice
Instructions
Preheat the oven to 320˚F (160˚C).
In a mixing bowl, mash the bananas, then add the milk, oil, and sugar. Whisk using an electric mixer.
Sieve in the self-rising flour, baking powder, and cinnamon. Whisk this in until fully combined.
Fold in any toppings you like.
Line a deep, narrow loaf tin with baking paper, then pour the batter inside. Tap against the work surface to even out the top, then bake for 40 minutes until a cake tester comes out clean.
Leave to sit for 10 mins before removing from the loaf tin, or the banana bread may sink.
Turn the loaf out onto a cooling rack and allow it to cool before serving.
Serving Your Cannabis Banana Bread
Cannabis banana bread is a mouth-watering recipe that you can use any time to impress your weed-loving companions – or to munch on after dinner by yourself. This loaf is delicious eating alone, but it also pairs well with cream. Alternatively, prepare a marijuana-infused butter, and spread it on a slice for an extra kick.
Cannabis banana bread is a mouth-watering recipe that you can use any time to impress your weed-loving companions.
As a final word of caution, remember that if you opt to use Banana Kush, this recipe will have a mighty kick, and will bring a whole new meaning to getting 'baked'! Make sure to stay within your limits, and keep your friends informed when sharing this tasty snack.