Apollo 13 Strain Overview
The Apollo 13 strain is one powerful bud and will have you blasting off into another dimension if you're not careful. It's known for its psychedelic properties and spacey high, so you might really just feel like you're on another planet. Apollo 13 has a really refreshing and herby flavor profile as well (somewhat reminiscent of tea and hardwood) and is great for its uplifting effects.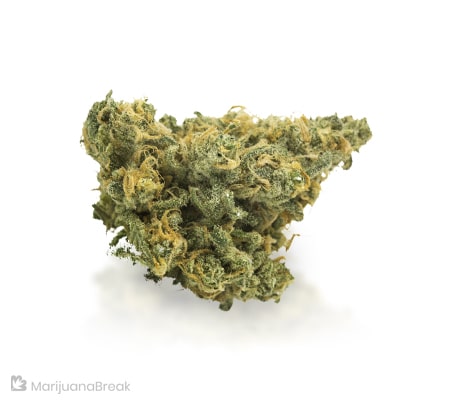 Common usage
Anxiety
Depression
Stress
Effects
Creativity
Focus
Happy
Growing info
Flowering period is approximately 7-8 weeks, can be grown both indoors and outdoors BUY SEEDS FOR THIS STRAIN AT OUR #1 RATED
ONLINE SEED STORE: HOMEGROWN
Psst – do you want in on an exclusive strain review? Cannabis enthusiasts who love the hunt for a super rare strain, listen in. What's peppery, pungent, and perfect for a euphoric yet focused high? Why it can only be the elusive Apollo 13!
About as rare as it is to go to space, Apollo 13 is the highly praised hybrid that is especially hard to come by; today we're going to tell you all about it!
What is the Apollo 13 Cannabis Strain?
If you are a big fan of a psychedelic high, then Apollo 13's out of this world effects will be right up your street! Noted for its spacey (pardon the pun) high – this strain is much sought after amongst the weed community.
Bred by Brothers Grimm, this bud is a cross between Princess 75 (P75) and Genius, which is the famous Jack Herer phenotype!
So why so rare? Originally, there have been solely five hundred seeds discharged by the original breeders. If it weren't for the efforts of different breeders to keep this strain alive, who knows if the strain would still exist today?
Super easy to grow if you are lucky enough to get hold of some seeds – this is one of those strains that was made for the novice grower! And the return is worth the minimal effort, as Apollo 13 offers a generous 15-19% THC!
The ideal daytime or wake and bake strain, we can't recommend this bud highly enough.
Apollo 13 Strain Appearance, Aroma and Flavor
Appearance
With deep green leaves, orange hairs, and plenty of crystal trichomes, Apollo 13 is a lovely looking bud. It boasts super sticky and generously large buds (which we LOVE).
We don't have too much else to say on this area – you will see for yourself if you can get your hands on some!
Aroma
Apollo thirteen features a pungent peppery and earthy smell on the first inspection. What makes it incredibly fascinating is the bitter tone of citrus mixed in. Admittedly, Apollo 13 could be deemed too strong for some users, and it certainly doesn't fall into the category of discreet – but again, each to their own.
Despite its pungent and robust aroma, upon lighting, there are more alluring notes of wood and even a little sweetness coming through which helps to balance things out a little.
Flavor
Although Apollo 13's aroma doesn't precisely meet everyone's preferences, it will do the job with its flavors. We must mention from the start though that this bud gives off a pretty harsh smoke on the throat, so bear that in mind when deciding if this is one for you!
Overall the floral, sweet taste of Apollo 13 is one which is very popular amongst cannabis users, and it offers a unique back note of herbal tea and skunk which joins the flavor party later on – but indeed ends things nicely!
Apollo 13 Strain Grow Info
Growing Apollo 13 is such a delight for several reasons. It doesn't matter what the season is; this bud will thrive with minimal maintenance. Apollo 13 needs much less intervention when compared to many other buds, so if you are opting to grow outside you only really need a hot climate to yield around sixteen ounces of bud.
Apollo 13 doesn't grow particularly tall, standing at around 1.5 meters, but she boasts thick stems and a wonderfully sticky bud when complete. Which, by the way, takes no time at all as flowering takes between 7-8 weeks!
This is a remarkably resilient bud that will offer any newbie grower a walk in the park experience!
Apollo 13 Medicinal Benefits
The medicinal benefits of this bud certainly vary from one user to the next. For example, for many medical cannabis users, Apollo 13 is beneficial in the relief of headaches. A strain which can manage headaches is also coincidentally known to bring on headaches in some… confusing? Remarkably so – but we do know that for many it is a potent pain reliever.
Thanks to its uplifting and energetic high it makes for a great combat to stress, low mood, anxiety, and depression. Not to mention its ability to retain your focus, making it ideal for getting things done particularly if you have a piece of work coming up that you have been putting off for some time.
Some users can find this strain leaves their head in the clouds, but it shouldn't cause sleepiness unless you overindulge. You can remain alert, focused and creative for hours throughout the day.
Oh – and if you're partial to a late afternoon feast, you will love the munchie effects of this bud, perfect for binging or relieving symptoms of anorexia.
Apollo 13 Strain Potential Side Effects
As we have already touched upon – this strain has the potential to cause headaches in users, as well as dizziness or paranoia if too much is consumed.
As with most strains, users should expect to experience dry eyes and dry mouth, as this is very common with many strains out there.
As we are not medical professionals we cannot advise anyone to try any strain to relieve a prescribed condition, so anybody thinking of using cannabis should do so in conjunction with their medication.
Final Thoughts – Is It a Yes or No on Apollo 13 Strain?
We love the rare factor, so this gets a massive thumbs up from us! But what we want to know is your thoughts; have you tried Apollo 13 for yourself, or are you yet to come across this rare hybrid?
Let us know everything in the comments – we can't wait to talk!