To all our fellow smokers out there in this post, we've decided to bring you some of the most spectacular places out there. You might not class "travel" as a priority on your list, but if you do ever decide to go on an outrageous trip, then these 5 places should be considered.
So here it goes; here is our list of 5 truly awesome places where you MUST light a joint before you die.
1) Meteora, Greece
This is truly a stunning site to see. Meteora means "middle of the sky" and the name says it all. This place is a formation of immense monolithic pillars and hills like huge rounded boulders which dominate the local area in Greece. At the top of this stunning site, you'll find a spectacular monastery.
2) Hitachi Seaside Park, Japan
Hitachi Seaside Park is a spacious park in Ibaraki Prefecture featuring a variety of green spaces and seasonal flowers spread out across 350 hectares, as well as an amusement park and several cycling and walking trails. What's amazing is that every April the park magically transforms, with the rolling hills changing from green into a vivid sea of blue. Other seasons are characterized by an array of other colors.
3) Pamukkale, Turkey
Pamukkale is a town in western Turkey known for the mineral-rich thermal waters flowing down white travertine terraces on a nearby hillside. Pamukkale in Aegean Turkey is also called the "Cotton Castle", because of the white, cottony appearance of the mineral bath spas that abound the province, which is rich in calcium. Known as a "spa town" since the Roman era, tourists travel to Pamukkale to relax in warm, soothing and therapeutic waters in the myriad spas.
4) Bora Bora, French Polynesia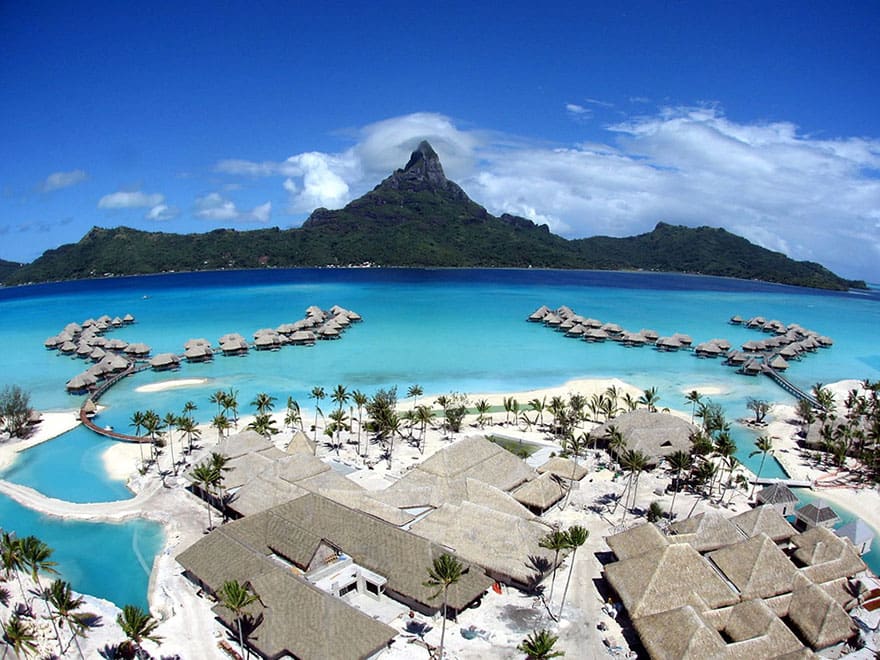 Bora Bora is a small South Pacific island northwest of Tahiti in French Polynesia. Surrounded by sand-fringed motus (islets) and a turquoise lagoon protected by a coral reef, it's known for its scuba diving. It's also a popular luxury resort destination where some guest bungalows are perched over the water on stilts. At the island's center rises Mt. Otemanu, a 727m dormant volcano.
5) Mount Roraima, Venezuela/Brazil/Guyana
Mount Roraima, also known as Tepuy Roraima and Cerro Roraima is the highest of the Pakaraima chain of tepui plateaus in South America. First described by the English explorer Sir Walter Raleigh during his expedition in 1595, its 31 km2 summit area is bounded on all sides by cliffs rising 400 metres (1,300 ft). The mountain also serves as the triple border point of Venezuela (85% of its territory), Guyana (10%) and Brazil (5%).
Got any other cool places to share, post them on our Facebook Post or in the comments below
Related Article: The ULTIMATE Stoner's 1-Day Travel Guide to Denver, Colorado