Before legalization, there was much speculation if the grass would be greener, literally and figuratively, inside a legal cannabis dispensary. Would the general cannabis consuming public leave their outlaw, corner dealers, or grey-market dispensaries, for highly-regulated (read: taxed) licensed producers? While newly emerging North American medical marijuana and adult-use markets are rapidly expanding, the illicit, coinciding market is still thriving.
I recently went to an illicit market in California. It was set up like a ghetto farmers market, if farmer's markets were to take place in smoky, after-hours nightclubs, rather than in parks. The site opted for discretion, but with the lack of ventilation, everyone left smelling like an ashtray. The market had plenty of weed – pillow case sized bags of it, on folding tables. There were even some name brands for sale including Cookies, that looked dubiously counterfeit. Security was discreetly packing heat and plenty of people perused the aisles while puffing away.
 An illicit cannabis market in California. Photo ©Sara Brittany Somerset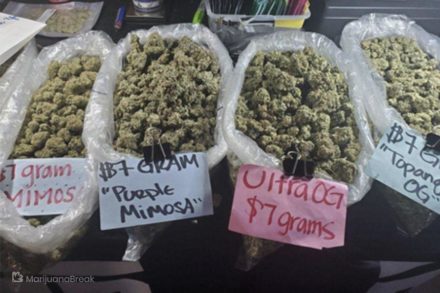 An illicit cannabis market in California. Photo ©Sara Brittany Somerset
I went with Adam Bergeman, the CEO of Goodness. Considering I am so white I am practically transparent, and he looks like a sexier, adult version of Little Dutch Boy, we went with Killah Priest from Wu-Tang clan so that we wouldn't be mistaken for narcs. Priest's signature cannabis brand dropped in August, so we were in good company. We were all just window shopping naturally.
For some, the reason to buy pot illicitly is apparent. An eighth of underground Ultra OG is $24.50, while an eighth at a Dr. Greenthumb dispensary is $50-$60 depending on the strain of Insane. Similar to a farmers' market, consumers are willing to pay more for craft or organic cannabis. However, some people do not want to pay double and upwards for the same weed they have been buying all along. Creatures of habit, they don't view buying illicitly as any riskier than downloading pirated movies or music.
For a while, cannabis companies tried to scare consumers into the legalized market, by discrediting generational farms with tales of pesticides and other contaminants. Having witnessed powdery mildew at a legal dispensary, the case for "legalized pot is healthier" does not always apply.
"People are zeroing in on mold and honing it as a marketing ploy that 'we test the cannabis, so it has to be better for you.' It is a quagmire. The Labs are arbitrary, and the baseline is an arbitrary concept. There is no US federal lab testing standard," says RJ Falcioni, CEO of outspoke.io.
While Jamaican ganja farmers do not irradiate their cannabis crops, Canada's strict microbial and pathogen requirements, as well as the pesticide ban, led to irradiation as one of the few ways to kill off crop contaminants and microorganisms. Because irradiation ultimately dries cannabis out, terpenes may be re-added, like food coloring to soda, to freshen it up for consumers. For generations, cannabis connoisseurs used their noses to gauge the potency of pot. Now, science has a workaround which may be misleading.
An illicit cannabis market in California. Photo ©Sara Brittany Somerset
Additionally, a reusable Ziploc bag or mason jar is much greener for transporting illicit green, than the excess plastic that encapsulates heavily regulated, mandatory child-proof packaging. Ocean Cannabis claims they are one of the few brands using 100% reclaimed, recycled ocean plastic.
So what are the immediate advantages of legalized weed? Walking into an adult-use dispensary provides an uplifting "kid-in-a-candy-store" feeling and an elevated shopping experience. The stores are often well lit, well-stocked, and budtenders are on-site to help consumers make informed choices. Whatever a person's preferred method of purchasing pot, both legal and illicit markets continue to thrive simultaneously, for now.
Published on:
27 Aug, 2019