It's incredible just how beneficial cannabis can be for your skin and body. The beauty industry has been taking notice, formulating outstandingly effective and revolutionary products from good oil hemp, nature's natural moisturizer and hair restorer. Hemp may not have the same effects as marijuana, for example you can't smoke it and get high. But it is the sister plant of powerful Mary Jane, and therefore, hemp a.k.a very-low THC cannabis is beneficial for a long list of uses.
Here at WayofLeaf we've searched all over the internet, sampled so many products and have compiled this list for you:
Our Picks For the Top 5 Cutting-Edge Cannabis (Hemp) Beauty Products that are bound to astound you!
1. Dr. Bronner's 18-in-1 Peppermint Liquid Soap
One of our all time favorite hemp products, using all natural hemp oil as a cleanser as well as a moisturizer. This formula makes you feel minty fresh the minute you wash it off. Feel cleaner and more natural than you ever have before with this soap that doesn't hurt the environment and is also good for you!
Moisturizes and cleanses naturally with its fair trade and environmentally friendly formula.

Affordable and long lasting Castile-style soap.

18-in-1 soap formula: can be used for over 18 different things including, washing your body, cleaning your kitchen, washing your hair, washing your clothes and more!

Dr. Bronner's is a family owned and respectfully run company, holding a legacy for soap-making excellence since 1948, when the company started.

Available for Amazon Prime One-Day shipping; receive your soap at your doorstep the very next day!
2. Hempz Original Herbal Body Moisturizer, 17 Fluid Ounce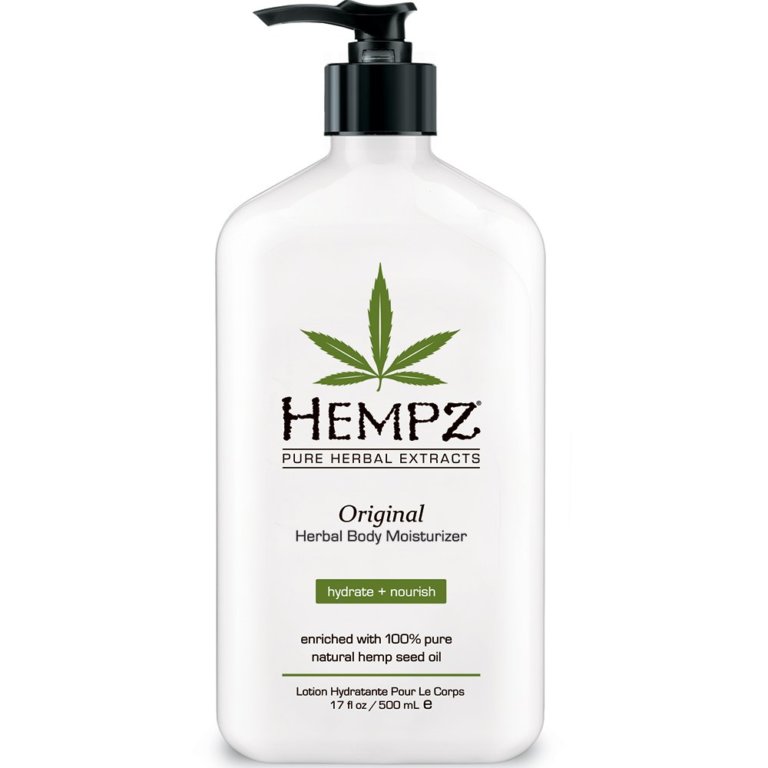 An incredible skin moisturizer that is guaranteed to bring health and elasticity back into your skin. Packed full of antioxidants, vitamins and minerals, nourish your skin with this softening treatment that heals the skin from deep within using the grand healing power of Hemp.
Incredibly affordable with over 2,000 positive customer reviews raving about the effectiveness of this product.

Receive your Hempz Moisturizer within 2 days, eligible for Amazon Prime 2-Day Shipping.

Features the magic strength of 100% Organic Hemp Seed Oil, one of nature's best sources of healthy-for-your-skin fatty acids and amino acids that truly renew and revitalize you.

Paraben-Free, Gluten-Free and 100% Vegan formula.

Save your body and protect the earth with this all-natural and amazing product!
3. Skin Hero Healing Hemp Balm
Skin hero saves the day and saves your skin with its astoundingly healing formula that protects and nourishes skin. It's formulated specifically to soothe dry and irritated skin, and moisturize the itches away with it's formula consisting of only the highest quality all-natural hemp oil.
Features all-natural and high quality ingredients, no preservatives and nothing bad for you!

Formulated specifically to provide relief from itchy bug bites, dry skin, eczema, rosacea, psoriasis, dry skin and red spots.

Buy with confidence with a 60-day money back guarantee provided directly from the company itself.

Ridiculously affordable and eligible for Amazon Prime Free 2-Day Shipping.

Rave reviews from customers who love Skin Hero!

Deeply hydrate your irritated skin.
4. Era Organics Complete All-Natural Daily Face and Body Cream
Although this product doesn't only feature hemp oil, the revolutionary mix of powerful ingredients that Era Organics has formulated has produced this action-packed formula that is bound to make your skin feel like it was just born!
Superfood for your skin, featuring the hearty and potent ingredients of Aloe Vera, MSM, Manuka Honey, Hemp Seed Oil, Blue Green Algae and many fatty and healthy for you oils and butters.
Revolutionize the way you treat your skin with an all-natural formula that produces a complete skin care regime and deep hydration, so you can feel renewed and radiant.

Packed full of nutrients, with vitamins A,B,C and E all working together to restore and treat your skin to bliss.

Get it shipped to your door quickly with Amazon Prime Free 2-Day shipping, plus a money back guarantee offer from Era Organics if you don't like this product (but we think it's safe to say, you are going to absolutely love this cream!)
5. bcBud Skin Care Hemp Brightening Facial Cleanser
A mild and gentle facial cleanser that softly washes the skin with powerful hemp oil, aloe vera, chamomile, cucumber and Japanese green tea extracts. Hemp oil helps to brighten skin and bring back your youthful glow to its full expression! Turn heads with this outstanding hydrating yet cleansing formula that calms skin irritation and inflammation.
Formula featuring no sulfates and no harsh chemicals, plus the magic powers of healing botanical ingredients, including the all-amazing hemp oil.

A refreshing and soothing mild green tea scent that will make you love cleansing your face morning and night.

Designed for all skin types, a diverse and multi-use formula perfect for everyone, plus it's cruelty-free!

Get your cleanser shipped quick with Free Amazon Prime 2-Day Shipping.
Enjoy the healing powers and medicinal benefits of hemp, the sister of marijuana. Cannabis is good for you and good for your skin, so why not use a plant that is truly revolutionizing the world!